The MASS
The New Catholic Mass set to Music.  You can get the entire Album by visiting TRACKS, or you can stream at your favorite sites.   Here are the SCORE & PARTS, which you can download for free.  Feel free to utilize and share as desired.
DOWNLOAD: SCORE & PARTS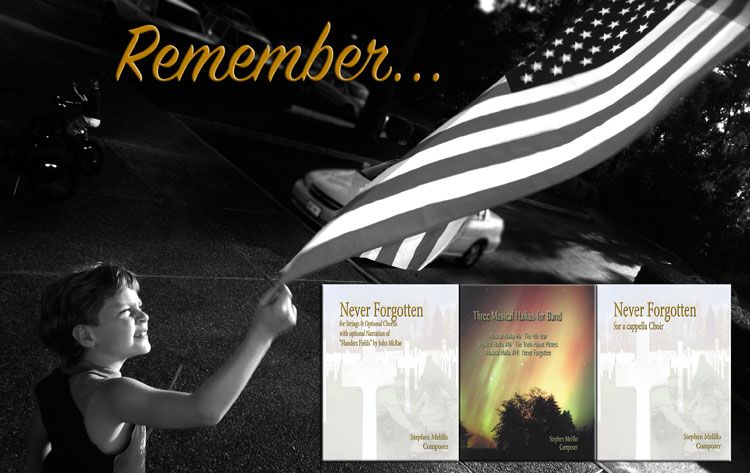 TAPS from Kakehashi:  THAT WE MIGHT LIVE, rendered by The Japanese Air Self-Defense Force Band with the Choruses of Shenandoah and Old Dominion Universities.  From STORMWORKS Chapters 5:8: Writings on the Wall.

Never Forgotten from 3 Musical Haikus for Band, rendered by Blasorchester Leipzig.  From STORMWORKS Chapter 2: Wende
 
The word "free" should never be misused. These pieces are indeed free of charge. Better said, they have already been "paid for," often by costs not to be measured. Please feel free to download these works and share them with those you know who could benefit from them.
If you or a colleague is not yet on the email list, please join the STORMDirector Email List.
All of the Music on this page, in print, PDF and recording is:
© CURT DeMOTT and/or STEPHEN MELILLO IGNA 2-3 Millennium
Please scroll to see all... Godspeed! S
---
COURAGEOUS
Written for Grade 4-5 Symphony Orchestra, this newly updated Score & Recording were offered as Gifts to the Parents of Sandy Hook, CT.
on 19 November 2013. See score notes and the memento "making of" film for the worldwide collaboration that made this Gift possible.
Central Bucks High Schools West and South: The Making of Courageous from Stephen Melillo on Vimeo.
Click here to see Youtube Video on the "Making of Courageous," a film made by Andreas Schwarzgruber
---
STAR
With optional Chorus & String Parts, this Free arrangement of the National Anthem of the United States of America was paid for Time and again, by many, that we might live. Played at NY Giants, Nets, and Yankee games, this arrangement brought long-lasting cheers and appreciative applause. I often "end" concerts with this version, a practice begun at the Premiere of Kakehashi: THAT WE MIGHT LIVE in Roswell, NM.
---
THOSE WHO SERVE
Beginning with USA stated in a rhythmically energized Morse Code, the piece quotes each of the military themes positioned against each other and the Star Spangled Banner.  THOSE WHO SERVE may serve you for concert and/or parade situations where a tribute to ANY branch of the military is in order. This tribute is composed and scored in such a way as to provide a Grade 3 opportunity for a wide variety of scenarios.
---
JEFFERSON'S VISION
An introductory work for young band. Enjoy!
---
---
LOST ANCESTORS OF THE YANGTZE
The Chinese government accomplished a great engineering feat by constructing a Mega-Dam across the Yangtze River in 2012, and in so doing submerged 244 square miles of land imbued with 5000 years of Chinese History & Culture.  Some of it was saved… so much submerged beneath 574 feet of water.  People who had known no other way of life were moved to higher ground and newer cities.
The Chinese were/are indeed brave in many regards, that in setting the NEXT 5000 years of future-sighted possibility. Still though... what they gave up was a Past that even "foreigners" like myself will miss. I have studied Chinese martial art all of my Life and very much love the History and Culture of China. I was fortunate to visit several Temples and walk on the Great Wall in 2010.
The most painful part of this relocation process was leaving generation upon generation of Family Ancestors to their grave-sites, now under water...
This newest Musical Haiku is called, "Lost Ancestors of the Yangtze." It is written to share my empathy with those who gave up so much.
Enjoy & Godspeed! S
That Which Remains, a Hymn for Notre Dame
16 April 2019
Inspired by events, Painful and Good from yesterday's events at the Cathedral of Notre Dame,
"That Which Remains, a Hymn for Notre Dame" #1193, Musical Haiku 81 in 5:17 for String Orchestra by © Stephen Melillo, IGNA 16 April 2019, 2-3M, STORMWORKS, ASCAP.
Video is the Philadelphia Orchestra Strings with Nathalie Stutzmann conducting.
DOWNLOAD: SCORE & PARTS
In Your Eyes, I See the World, #1205, Musical Haiku #92 in 4:14 for Wind Ensemble of the 3rd Millennium™ by © Stephen Melillo IGNA 30 July 2019, 2nd & 3rd Millennium, for Gerard Francis Avellaneda, and all those Children and their Parents who see the unique Beauty that they alone can offer the World...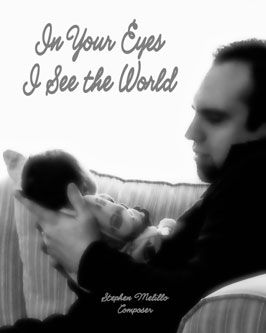 In Your Eyes, I See the World SCORE
In Your Eyes, I See the World PARTS
In Your Eyes, I See the World MIDI DEMO (please forgive while we work on a recording...)
Make a direct donation to Smile Train.  Click HERE: https://my.smiletrain.org/donation/donate/givenow
Receive a Personal Letter from Gerard's Dad, Walter Avellaneda, Click HERE to request an email.
---
Fanfare for Low Brass Choir, #1206 in :43 Seconds for Low Brass Choir, by Stephen Melillo, IGNA 1 AUG 2019, in Marktoberdorf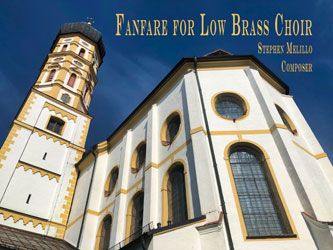 Fanfare for Low Brass Choir, SCORE & PARTS
Facebook Film (of a slightly earlier version)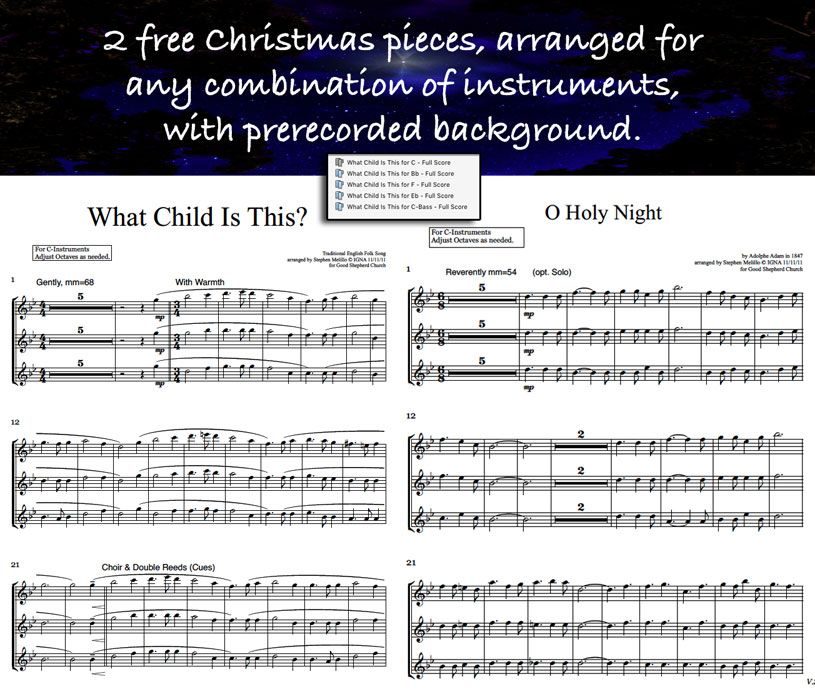 What Child is This?  Score/Parts
What Child is This?  mp3 Audio Accompaniment
O Holy Night  Score/Parts
O Holy Night  mp3 Audio Accompaniment
Download your 27 January 2020- Memento, "The Touchstone."  This story is now a part of the newest Stephen Melillo Novel, "Death to Moby Dick, a Love Story." (coming soon.)
---