Since 1998, I have had the great blessing of meeting and then eventually sharing breakfasts with Survivors from Bataan & Corregidor. Since it's beyond-words-meaning is impossible to "blog" or share in any short and impersonal way, I stay quiet. Write Music. Recently, the last of our Breakfast Veterans let us go. Over the years, I have had the great and humbling honour of playing TAPS at their services. For Turk Turner, I took TAPS as it was rendered within THAT WE MIGHT LIVE, and followed it with Reveille. If you have the chance to use this recording in honour of our Veterans... please feel free to make use of it. That is why it was written.
TAPS arranged by Stephen Melillo (mp3)
Important Dates, and Program Planning: /dates-music-planner 


HYMN to the MARINES FILM (QT) with "visual scoring" by F.A.F.

HYMN to the MARINES

by Jacques Offenbach @ 1895
arranged as #947
Musical Haiku #28 by
© Stephen Melillo IGNA 27 February 2007

2:33PM in Baghdad, as the sun rose in Virginia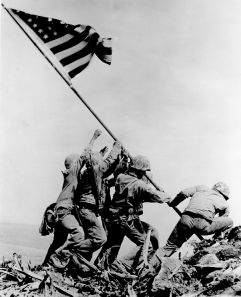 Yesterday, I was treated to a call from Baghdad. It was Michael Ashby, a Marine serving in Iraq. (After I discovered he was/is a GREAT singer, he would later render and record "All This Shall Be Yours" on Chapter 21.)

The call lasted 33 minutes (yes, it's true.)

"Mike, please tell me what I can do for you and all your buddies. Maybe there's something I can put on the website, some sort of Thank You note?"

"Steve, one day... well, could you please do an arrangement of the Marine Corps Hymn."

"Funny you should say that, Mike. I always wanted to do one... you know, like Star, like God Bless America... not typical marches, but "love" songs."

"That's exactly what we want. That would be so cool."

"Why, Mike?

"Because we put our Hearts into what we do. They're not just jobs. We're passionate about our work. We are leaving so much of ourselves behind for everybody." Michael Ashby, Marine.

Dear US Marines... inspired not only by Michael but each and every one of you, Past, Present, and Future... here is a small expression of my love, admiration, and respect for you and what you do in the name of Freedom. I have a Son who was born 24 minutes before the first building was hit on 11 September 2001, and I know that what you do today... may just save my Son from doing it tomorrow. Thank you for your Bravery. Thank you for your Courage and sacrifice. We get it and we appreciate it. Hopefully, in this small "tribute", you'll find a sentiment you can relate to. Godspeed! Steve



Reactions from Marines below...
Attention Band and Orchestra Conductors, Many of you have requested that I score this arrangement for Band and/or Orchestra. It is complete as of 11 November 2007, Veterans Day. The arrangement will sell for $50 per copy. With each group of 25 Conductors investing in a copy... OR, multiple copies of the work... an entire Platoon of 40 Soldiers currently serving overseas will be adopted!

We have currently adopted FOUR Platoons!



If you too believe that Music should serve, please consider investing in as many copies as possible. We'll keep track of the Platoons adopted and make this the special event it deserves to be.  Godspeed! S


To order, choose STORMWORKS Chapter 13. HYMN to the MARINES (Scroll).  Also, please DOWNLOAD the Quicktime Movie for optional, (muted) projection at your concerts.
And now, Michael's Reaction!

"Stephen, that piece was beautiful! It gave me, and every Marine that has listened to it IMMEDIATE goose-bumps. It is greatly appreciated by everyone. The gang says a great big Thank you for YOUR Patriotism and support Steve. Again, thank you for that Tribute. It is an amazing arrangement that is filled with emotion. It is an Honor to serve a country filled with un-fading pride in their Military." Michael Ashby, Marine.

"Steve: I just listened to your rendition of the Marine Hymn. I have never heard a a nicer arrangement of our cherished Hymn. Thanks so much. Every Marine no matter how old starts a tear when our song is played but yours is the best I have ever heard. Thanks Again and SEMPER FI." Walt Perry, Marine

"Steve, We performed the "Hymn to the Marines" last week as the finale to our Spring Concert. 65 string players and an entire Symphonic Band....with the movie from your website playing on the big screen right over top of the performers. I cannot tell you how many people came up to me after the performance to let me know how moved they were. I received numerous email as well, each saying that tears were brought to their eyes by the power of the music and the kids. We muted the sound of the video and then worked as an ensemble to sync certain hit points from the music with specific scenes from the video. It was an amazing experience. The students became INTENSELY focused on my conducting and making sure that they moved and stretched the tempos to keep the music in place. It made for a great performance....but also was an awesome training tool for the students in the importance of having their heads out of the music and being with their conductor." Thanks again for composing such a touching and patriotic tribute. It made the concert for me and for many people in the audience. Scott Hensil, Director Of Orchestras, PA.

"Scott, We have done the piece twice now with the video... The first with my Wind Ensemble in March, the second in Chesapeake with 275 musicians in the "Passing the Torch of Freedom" Concert. Next week we do it for 1000 people with 400 musicians at the Finger Lakes Performing arts center with 400 musicians! It gets bigger and better every time!!! It never fails! Steve's marriage of picture and music is artful to say the least! I know I have succeeded in conducting when the man in the red jacket hits on time! That is the definitive moment for tears! The moment when the audience is moved to appreciate the sacrifices of these men. The other is when the little boy appears at the end - the audience is reminded that these men TODAY have families and are waiting for them to return. I actually pasted gif files of key events into my score to stay on track. You are right - the kids begin to follow much more closely and begin to appreciate the value of subdividing beats 3 and 4! What a great teaching piece on so many levels! History, expression, feeling, repect.....ravo!" Tom Davis, Canadaigua HS, NY

"Steve, Audience and Band members had tears, we had a standing ovation at the conclusion and audience members spoke about it to me after the concert ended. My neighbor who is a Purple Heart Marine hugged me after and raved about the honor the 'Hymn to the Marines' brought to the Corps. In an otherwise fantastic concert, the Hymn was still a highlight for many. I was proud and honored to conduct your work. It took several seconds for me to regain my own composure to be able to speak after the final chord release. Godspeed." Don Jemella