Message-Our Time as a Song in the Universe from Stephen Melillo on Vimeo.


Lord Byron
"The stars are forth, the moon above the tops of the snow-shining mountains-Beautiful!
 I linger yet with nature for the night hath been to me a more familiar face than that of man; and in her starry shade of dim and solitary loveliness I learned the language of another world."


Troy University Symphony Band - Ralph Ford, Conductor

Recorded in Crosby Theater at the 38th annual Southeastern U.S. Concert Band Clinic,
Troy University (AL) 2/4/2011, 
Music available from STORMWORKS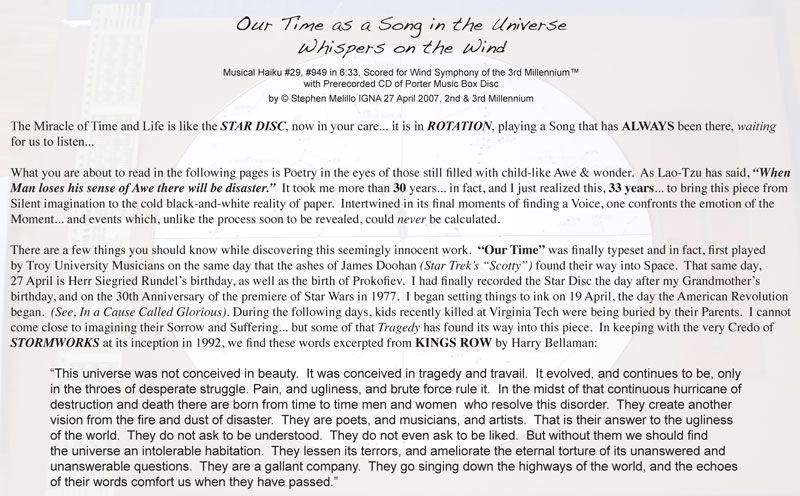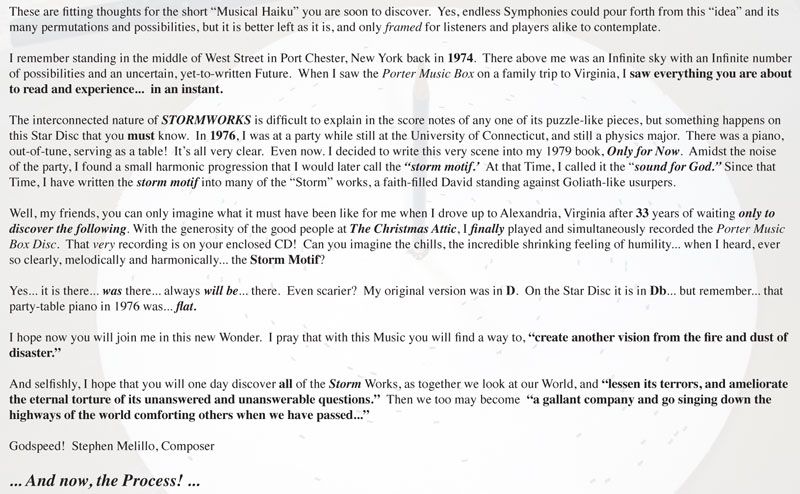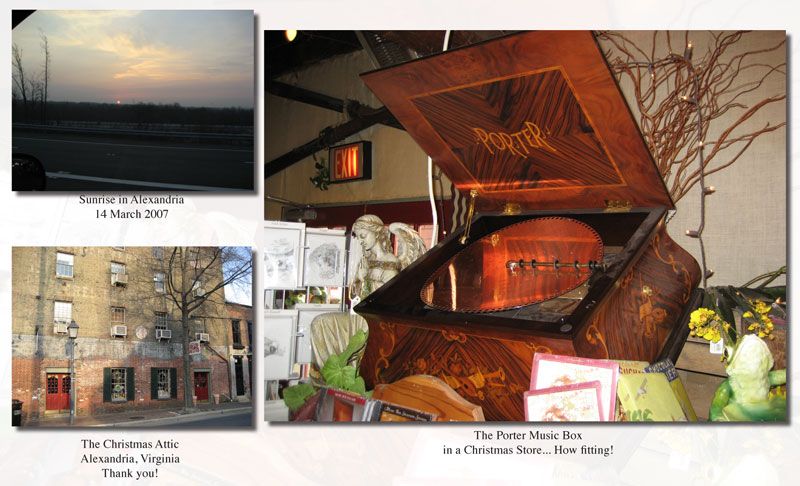 From Ralph Ford
"I attended a reception in the president's suite after our concert. Nearly everyone referred to OUR TIME as a SONG in the UNIVERSE in some manner. Even the people that did not get it... the piece STILL had some profound effect on them. They just couldn't express it. And so, once again, I can prove that there is SOMETHING in your Music, your Orchestrations, God only knows because even I still cannot explain it. We can play and play, sound really good... then jump into a Stormworks, and the same group sounds completely and profoundly different.  So, my study continues. Your friendship and guidance and willingness to share continues to help me understand Music and myself a bit better each day."

From Gerhard Reischel, Conductor Landesmusikschule Leonding, Austria
"Dear Stephen! Great, wunderbar!! It´s a special sample of very emotional music. It´s very extraordinary!! I guess thats a new step in instrumentation and arrangement of your great works, but each composition is typical for "Stephen Melillo"!!  Very deaply sound, the track with Martin Kiener sounds like an Symphony Orchestra. Sorry, I´m not able to describe it in english, but this CD takes the Concert Band Music in a new dimension. In my opinion, the great bands and band directors like this music and the people in the concert halls would be touched by such wunderfull music all over the world!!!!! Godspeed" P.S. The Beginning of our last concert with SBO Ried an 26.10. was with your opus 1... and now, it is on Chapter 13. That`s great of you, to give your first, wunderfull work to your new CD!!"
 
From Dr. John M. Long, Distinguished Professor of Music, Dean
"I have just listened to the new Stephen Melillo, Stormworks Chapter 13: Whispers on the Wind CD. It is without doubt one of the most exciting band works I have ever heard. Stephen Melillo, with his super talent, is in a class by himself and years ahead in this creative world of music. His is definitely on the cutting edge in the future of music."


From Thomas Reynolds, Music Director, Harvard, MA Public Schools, Conductor MIT Concert Band, Cambridge, MA
"This music navigates its way into a person's soul in a most succinct and profound manner. One becomes drenched in the vivid emotional imagery that radiates from this recording. It tugs at your heartstrings and it challenges your conscience. You'll begin a new musical journey in a new dimension, a new time. You will never be the same."