As of 29 MAY 2023
Personal History & Bio.
Stephen Melillo, Composer.
Compiled from Interviews, Articles, and Letters
by MJ Hudson, Walter Avellaneda, James Byrn, and Dr. James McCrann
Posted by Michael Ashby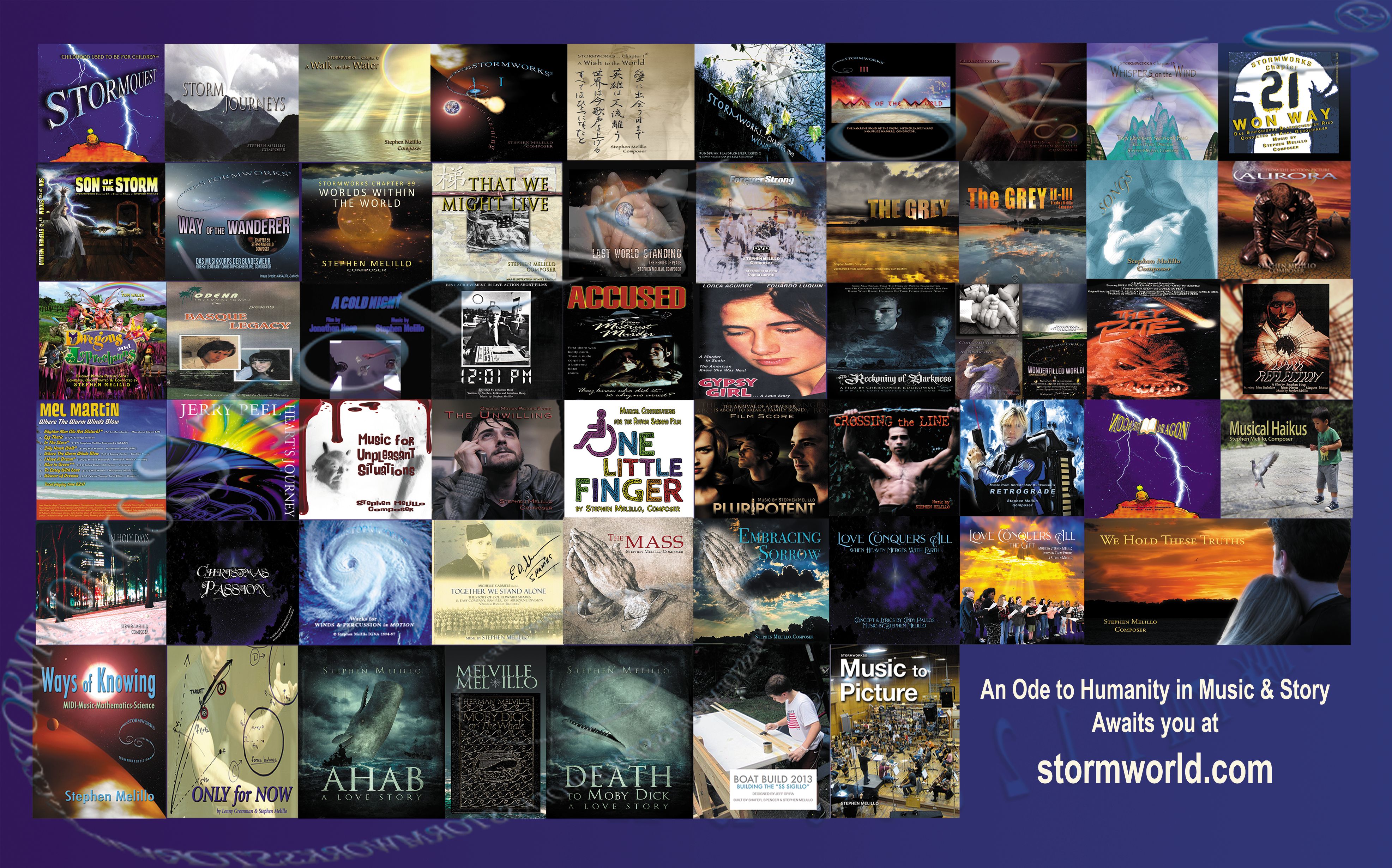 As of this writing, there are 62 Discs (CDs) in 52 Albums, each with many pages of accompanying notes.  These represent only the Music that has been recorded, approximately 11% of the complete output of what is today, 1,333 works.

... and all of this Music is related to 3 novels:

Only for Now
Ahab, a Love Story
Death to Moby Dick, a Love Story
STORMWORKS CHAPTERS via STORM®ecords
1974-1976 First sketches resulting in, After the Storm, Chapter 0
Chapter WPIM: Works for Winds & Percussion in Motion
Chapter: Orchestra & Jazz Works
Chapter: STORMQuest
Chapter: STORMJourneys
Chapter 0: Walk on the Water
Chapter 1: Without Warning
Chapter 1-Prime: Wish to the World
Chapter 2: Wende
Chapter 3: Wait of the World
Chapters 5:8: Writings on the Wall
Chapter 13: Whispers on the Wind
(includes a detailed History of Stormworks.)
Chapter 21:  21 Won Way
Chapter 34: SON of the STORM
Chapter 55: Way of the Wanderer
Chapter 89: Worlds Within the World (coming soon)
We Hold These Truths (coming soon)
Forever Strong, What These Eyes Have Seen (DVD)
Kakehashi: That We Might Live (DVD)
Last World Standing (DVD)
Christmas Passion
In Holy Days
Musical Haikus by Stephen Melillo
Nogard & Dragon
Songs by Stephen Melillo
Symphonies by Stephen Melillo
Music from, 12:01 PM
Music from, Accused
Music from, Aurora
Music from, A Cold Night
Music from, Basque Legacy
Music from, Crossing the Line
Music from, Dark Reflection
Music from, Dwegons & Leprechauns
Music from, Gypsy Girl
Music from, Terrorvision
Music from, They Bite
Music from, Together We Stand Alone
Music from, One Little Finger
Music from, Pluripotent
Music from, Reckoning of Darkness
Music from, Retrograde
Music from, The Unwilling
Music for Unpleasant Situations
Hearts Journey (with Jerry Peel)
Where the Warm Winds Blow (with Mel Martin)
Love Conquers All
Arise Together (Love Conquers All, the Gift)
The GREY
The GREY II-III
The Mass
Embracing Sorrow
Stephen Melillo is also a contributing Composer, Arranger, Producer on several other Albums.
Personal History

Stephen Melillo is an American-born 20th and 21st-century American Composer.  He is also known as Stephen Leonard Melillo, Stephen L. Melillo, Steve Melillo, Steve Mel, and SLM.  He has written film scores and concert works under the pen names, Emilio Maccolini, IGNA, M. Glass, and Stormworks.

Born on December 23, 1957, in Port Chester, New York, he is the son of the late Bruce Ernest and Carmel Melillo, and brother to Ron, Mark, and Bruce Nicholas Melillo. He attended Corpus Christi Catholic School in Port Chester, New York, and later Iona Prep in New Rochelle, New York from 1972 to 1973. As a Freshman, Melillo was a member of the Captain's Corps. He held the school obstacle course record and played "middle guard" on the undefeated and un-scored-upon Freshmen Football Team.

From 1973 to 1975, Melillo attended Greenwich High School in Greenwich, Connecticut, where he played trumpet in the school orchestra, band, pit orchestra, and jazz ensemble.  He then attended the University of Connecticut in Storrs, Connecticut, from 1975-1976, where he studied Physics and Philosophy. Melillo continued to pursue his musical passion, performing on lead trumpet in numerous (21) musical productions. He eventually switched his major to music and transferred to the Boston Conservatory of Music, graduating in 1980 on the Dean's List with honors and a degree in music education. Melillo pursued graduate studies at Columbia University, studying conducting with Jens Nygaard, and Attilio Poto, a student of Arturo Toscanini. He graduated in 1982 with a Master of Arts in music. Additional studies include a stint at the Manhattan School of Music in New York City in 1979.

As of 2023, Stephen Melillo has composed and/or arranged 1,333 works for Ensembles of all scopes.  He coined the phrase, "Ensembles of the 3rd Millennium™" in the 1990s.  Within these many varied pieces are "STORMWORKS".  "STORMWORKS" are 192 commissions, representing 335 movements for Band of the 3rd Millennium™, in an interrelated suite of pieces spanning 45+ hours of Music recorded into Chapters by some of the world's finest ensembles.  (See list below.)

In 1986, "The Triumphant" was published by Bourne Music Publishers.  "The Legend" was published by Shawnee Press.  In Melillo's own words: "There were 2 things about this first publication that provided only short-term excitement.  The Triumphant was written for Viola and Band.  I was asked to change the Viola part to Clarinet to enhance marketability.  The entire marketing and typesetting process (this was before the advent of today's software-based typesetting programs) took 3 years to complete.  With 1,194 works, I realized that I didn't have 3,582 years to get my library published.  This was another part of the decision to self-publish and establish "STORMWORKS".  I purchased "The Legend" back from Shawnee Press.  Changing its title to "The Stormquest", it became the 1st Chapter (movement) in a suite of pieces for young band called, "STORMQUEST". (1996)  Melillo in a live interview on 22 February 2019.

Melillo became a member of ASCAP on September 11, 1982, after scoring "Dark Reflection", with the Ithaca Symphony Orchestra under the direction of their esteemed professor, the late Pamela Gearhart.  In 1988, while composing the piece, "Stormworks", ASCAP informed Melillo that the business name he had been using to date, namely, "Signature Sound", was already in use.  He decided to call his self-publishing and business entity, "STORMWORKS".

In addition to his musical compositions, Melillo has authored several books beginning with Only for Now, a young adult novel.  His Teacher-guide Curriculum, Ways of Knowing, was written and case-studied with grants from the New York Academy of Science, The Ford Foundation, The Carnegie Foundation, and the Institute for Schools of the Future.  In creating and implementing the curriculum guide, he worked with Marvin Minsky, the "father of artificial intelligence" and Seymour Papert, the coding author of LOGO. Both taught at the Massachusetts Institute of Technology (M.I.T.) in Cambridge, Massachusetts, where in 1980, Melillo's first work for wind ensemble was rendered under the baton of John Corley. This 9-movement work entitled Only for Now includes, as one of its movements A Theme for the Special Olympics, his first work for symphonic band. (1978)

The Ways of Knowing Curriculum guide he authored, demonstrating the intersection of music, mathematics, and science, was so successful in improving the test scores of New York City Public School students that it led to a program training 275 math and science teachers how to improve students achievement by means of learning computer-sequenced Music-making. As the creator of MIDIMAST, (MIDI-Music, Mathematics, Science, and Technology) sponsored by the Ford and Carnegie Foundations and the New York Academy of Science, Melillo trained teachers while demonstrating a quantifiably improved understanding of mathematics and science via music composition. Case studies included numerous classes with K-6 students from Harlem, Spanish Harlem, Brooklyn, Bronx, and Queens.

Throughout his career, Melillo has been extremely active in the field of music education. From 1974 to 1995, he arranged music for 50 different school programs and taught at a number of high schools and colleges in Connecticut, New York, and New Jersey, including Chester High School, New York, Roxbury High School, New Jersey, Harrison High School, New York, The Institute for Schools of the Future, New York City, The New York Academy of Science, New York University, various New York City Public Schools, and the State University of New York (S.U.N.Y.) at Purchase. In 1985, the Harrison High School Jazz Ensemble, under his direction, was the first and only American Jazz Band to have won the Canadian Stage Band Festival. In 1990 at S.U.N.Y. Purchase, he implemented the "Music to Picture" film scoring program while simultaneously composing the music for the Oscar-nominated film 1201 PM, directed by Jonathan Heap. From an affiliation with M.I.T. in 1979 through his graduate studies at Columbia University in the early 1990s, Melillo also worked at New York University, teaching hands-on courses for New York City teachers on the use of the "intranet," the precursor of the internet.

Between 1984 and 1985, Melillo was a finalist in NASA's "Teacher in Space Program".  

With 17 years in public schools, 46 years as an international guest conductor, and 51 years as a practitioner of Chinese martial art, Melillo's musical language is reflective of a wide-ranging base of knowledge and influence. From beginning instrumental students to Musicians employed by the Rotterdam and Vienna Philharmonic Orchestras, he has worked with a vast array of multinational students aged 4 - 87. Such diverse experience spans teaching Braille-reading music students at Perkins School for the Blind in Massachusetts to sharing close-quarter defense techniques with several styles of international martial artists, including a detachment of Green Berets stationed in Mansfield, Connecticut during the late 1970s.

Melillo has also served as a music composer, arranger, and educator for both junior and senior drum and bugles corps and numerous school marching bands. In addition to his work with the Bayonne Bridgeman of Drum Corps International, his arrangements and original compositions for the Bushwhackers from 1990 to 1995 led to five consecutive Drum Corps Associate's Open Class World Championships. Each of his original field shows, termed WPIM (Winds & Percussion in Motion), written for marching bands between 1984 and 2000, have won either a state or a national championship.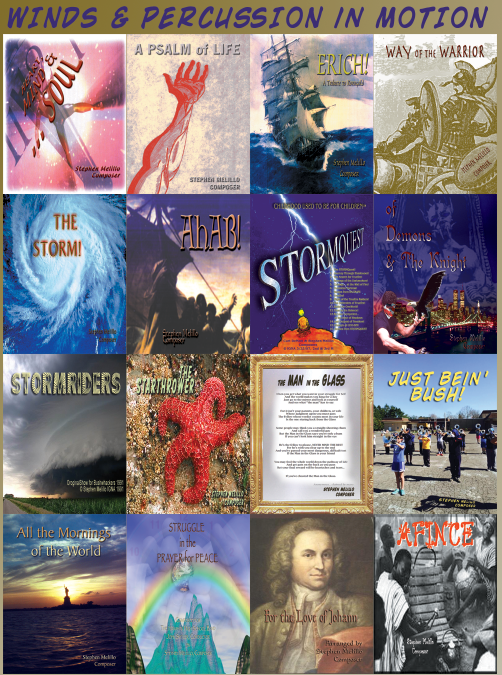 Despite having created hundreds of works for a wide variety of mediums, it was not until June 19, 1988, that Melillo finally self-identified as a "composer," which he did upon the completion of his 404th piece, S-Matrix, Symphony Number Numberless. This symphony was a self-imposed test in which Melillo challenged himself to compose by pen directly from his mind to paper, without any instrument intervention. The first time the piece was truly heard was when the North Carolina Symphony Orchestra, conducted by Maestro Gerhardt Zimmerman, read the work. Its premiere performance on November 19, 1992, received the first standing ovation in the 40-year history of the Meymandi Concert Hall in Raleigh. During the intermission of the concert, Maestro Zimmerman commissioned Melillo to compose his Symphony 2: At Life's Edge, which premiered to similar standing ovations in 1996. Zimmerman has since commissioned SYMPHONY IIII: Lightfall, which in 2017, was nominated for the Pulitzer Prize in Music.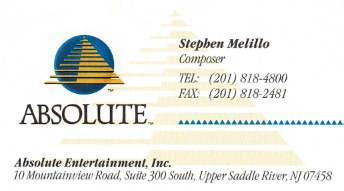 From 1993 to 1994, Melillo worked as a composer and sound designer at Absolute Entertainment in Upper Saddle River, New Jersey. Working within the limitations of 59K (kilobytes) for all music and sound, he composed and sound-designed 11 video games in several platforms, including Sega-Genesis and Nintendo.  He was also a stunt double in the "Penn &* Teller" game.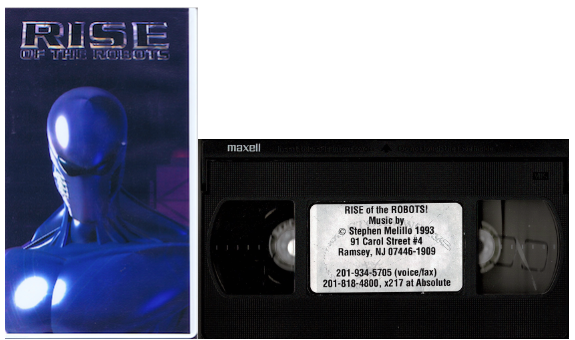 On December 29th, 1993, Melillo composed music for the 1994 NAMM (National Association of Music Merchants) Convention. Absolute Entertainment's video editor had put together a demo/show of various game screens. While he was only asked by the editor to simply, "add some guitar" for the presentation, Melillo went much further, rendering Rise of the Robots as a dramatic score.  (This is the FIRST time anything like this had been done.)  
 
It was a monumental success at the convention, which led to the dissemination of a VHS tape of the production to many filmmakers and video-game designers. On the outside of the 1993-1994 VHS demo box, it read, "The Future of Game-Music is Film Scoring."

Rise of the Robot's impact at the 1994 NAMM show set the stage for a "film-scoring" approach to writing music for video games that foreshadowed and influenced the escape from 59K to the eventual recording of a live orchestra.  At that time, Melillo's use of the MIDI orchestra inspired the next two decades of game-music composers in the areas of style, harmonic vocabulary, orchestrations, rhythmic constructs, and transitional devices. An example is Melillo's Last Outpost of Freedom, which he later scored for young band and embedded within the STORMQUEST series. This 1994 MIDI demonstration of music for video games provided to the Absolute Entertainment CEO was called Super Battle Tank at that time.

Despite the initial success of Absolute Entertainment, its eventual demise and bankruptcy led to Melillo's dissolution with the company at 3:33 PM on February 4th, 1994. It was then that he returned to his home in Ramsey, New Jersey, and decided to make STORMWORKS his full-time commitment.
 

STORMWORKS History

The humble origins of STORMWORKS can be traced to musical themes that Melillo explored on an old, out-of-tune piano on the campus of the University of Connecticut on December 14, 1976. He further developed these ideas in 1977 at the Boston Conservatory of Music, which ultimately culminated in After the Storm, a work for organ and chorus. The piece was later modified for orchestra in 1990, and then for Band in 1999. After the Storm, was broadcast to a television audience of over 2 million viewers as the concluding work in Singapore's 2005 salute to "Building a New Future".  Additional nationally televised performances of Melillo's music include the December 2011 tribute to Roberto Clemente, 21 WON WAY, in Spain.

Melillo's first piece for the symphonic band was inspired by a television advertisement for the Special Olympics. While still a college student with limited resources, he composed A Theme for the Special Olympics on February 3rd, 1978 as a gift to the sponsors and athletes of the Special Olympics.  John Corley and the Boston Conservatory Wind Ensemble recorded the work.  Forty-one years to the day later, (February 3rd, 2019) the piece was recognized by the Virginia Special Olympic Committee, and now serves as a tribute to the athletes. Conductor John Corley asked Melillo if he could program the work for a Boston Conservatory Wind Ensemble concert.  He asked Melillo to conduct.  With the success of this premiere, Melillo later composed a symphony for Corley and the Boston Conservatory Wind Ensemble. This 70-minute, nine-movement, handwritten work for an extended wind ensemble, acoustic guitar, harp, and incorporated jazz ensemble was entitled Only for Now. Dedicated to his grandmother, Madeline Vallette, Only for Now premiered at M.I.T. in 1980, with his grandfather, Leonard Vallette present for the last concert he would ever attend. The seating arrangement Melillo developed for the performance of this work is an illustrative foreshadowing of his STORMWORKS seating plan that was to be designed in the years ahead.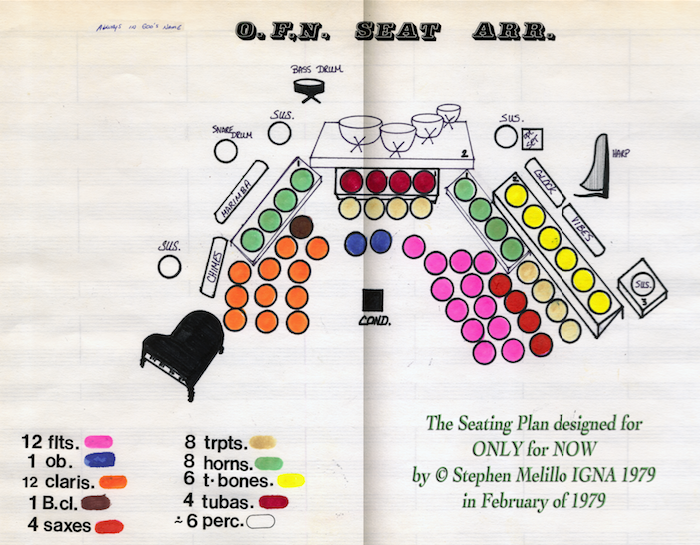 STORMWORKS Seating Plan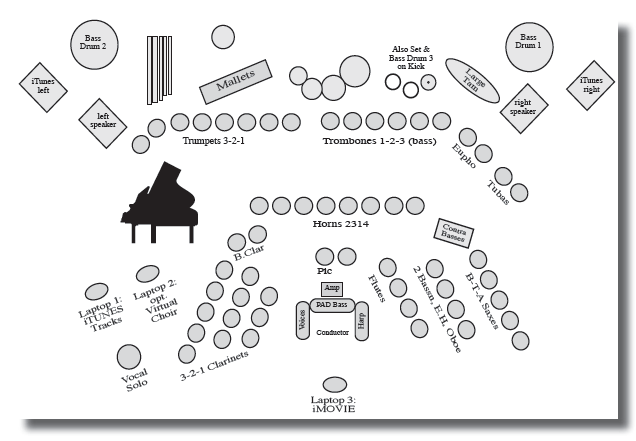 After years of experimentation, which culminated in unique seating arrangements, modern orchestrations, and innovations for the Band of the 3rd Millennium™, Melillo developed two concepts that were incorporated into his larger-scale works, Kakehashi: That We Might Live and Last World Standing, namely PHOTORhythm™ and VisaREEL™. These techniques are essentially the reverse of film scoring. Instead of the music becoming sublimated to the visuals, these processes allow the visuals to enhance the music.  At the premiere of Last World Standing in Linz, Austria's Brucknerhaus, rendered by Sinfonisches Blasorchesters Ried with Karl Geroldinger conducting, the 33-minute work elicited an 18-minute standing ovation.  Geroldinger remarked, "It was probably the most emotional (moving) concert in our history."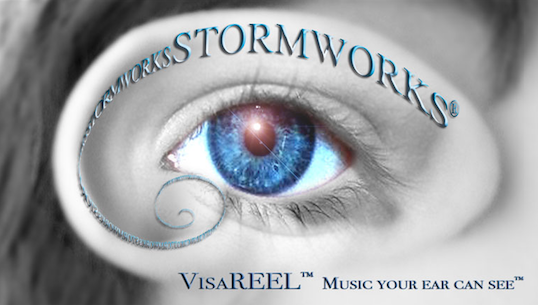 (7:31 Youtube video version)


Industry firsts made in Melillo's STORMWORKS® Music & Teaching Tools for Ensembles of the 3rd Millennium™ include:

First to:
 
1.  disseminate music worldwide using Portable Document Format or PDFs at the inception of Adobe introducing the software in June 1993
2.  self-publish using contemporary technologies, beginning with STORMWORKS in 1992
3.  produce & issue a CDR of PDF music, beginning with The STORMQUEST Suite (1996)
4.  electronically distribute score and parts through PDF emailing, beginning with STORMWORKS in 1996 to Scott Rogers in Norway
5.  conduct a rehearsal via the internet, using iChat in 2005
6.  deliver recorded music for Band through the use of DigiMusiCard™ (See Billboard Magazine, March 2008)
7.  produce a film scoring book on the iTunes Bookstore: Music to Picture
8.  create PHOTORhythm™ & VisaREEL™ in 2005 and 2006, where music is visually scored and the normal hierarchy of the senses is reversed in favor of Music
9.  implement the "PAD Bass", a term coined by Melillo to designate patches within name-brand synthesizers as an integral part of concert Music and use on the field.  It was first used in 1979 with jazz ensemble


Melillo provides the following, A Brief Science & History of the PAD Bass, from stormworld.com, score notes to LAST WORLD STANDING.

"In 1979 while working with beyond-cutting-edge people at M.I.T. in Cambridge, Massachusetts, I realized that the "future" resided in the use of technologies, which at that Time were unheard of or regarded as toys.

In 1980, I purchased a Korg Poly-800 Synthesizer and a Commodore 64 Business Computer, and with it, an outlandish-new device called a MIDI Interface. I was quick to incorporate them into the Music Education classes and of course, the Band. I still have these wonderful heirlooms as museum pieces!

In 1981, I incorporated the synthesizers with my high school jazz ensemble and concert band. Also in 1981, some 25 years ago... a student who aspired toward attending the NYU Film School, prepared a 16mm film which was projected above the Band and scored live via streamers and punches in a concert involving the student-made 16mm projected film, live Musical scoring, synthesizers, stage, lighting, and sonic effects.  A foreshadowing of the 2006-premiered piece Last World Standing.  Ironically, and just as it did with Last World Standing, this film had stock footage of the Atomic Bomb within it and dealt with the effects of War.

In 1982, I began utilizing first a Yamaha and then a Roland synthesizer to generate a fundamental in the Band Orchestration, which up to that point existed only in the Symphonic Orchestral world. Enter the PAD Bass!

In 1983, a wonderful and pioneering experiment in field Music called STUDIO SOUND IN MOTION made use of synthesizers, guitars, basses, pre-recorded soundtracks, (everything from dialogue tracks to machine-gun fire, airplane crashes, and much more!) ... and all sorts of special spatial effects and sonic theatrical devices rendered live via power from marine-batteries. We were pioneers some 36 years ago! Those special kids will always be dear to me because of their unbridled collaboration in exploring new frontiers. It was all so fitting for the Music Education of that time and for the Music Education still yet to be fully discovered even now."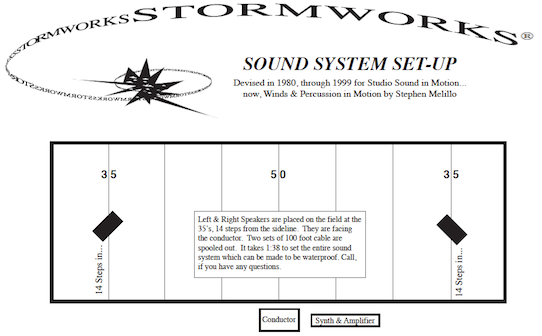 Two important dates establish the beginnings of STORMWORKS.  One is January 27, 1992, when by unintended consequence, the premiere of "A Walk in Jurassic Park", rendered by the United States Air Force Band from Dayton, Ohio, with Colonel Richard Shelton conducting at a Music Educators convention in Ohio, prompted several Music Educators to call for copies.

"At that time, I had no idea of what to charge.  I would get a call and ask the director, 'What do you think I should charge?'  There was no system in place.  I would simply photocopy my handwritten version and mail the piece.  I would charge for the copying and mailing costs.  After a while, I forgot who had ordered what, so I created a database.  That was over 5000 worldwide conductors ago."  Melillo interview, circa 1996

On February 16, 1993, Melillo received a letter from Edward S. Lisk, who became his mentor in the field of Music Education.  Mr. Lisk wrote, "Without a doubt, Stephen Melillo must go out into our 'band world' and ignite a new fire of musical expression for our young musicians!! Your creativity, energy, and imagination enters into areas of human expression where others hesitate to explore."

This excerpt from Mr. Lisk's letter provided the final and lasting inspiration for Melillo to commit himself to the full-time pursuit of "STORMWORKS".



STORMWORKS HISTORY continued:

Music by Stephen Melillo has been played and recorded by some of the World's finest ensembles and conductors. More than 1,194 works span from the IBM Thinkpad® Demo to the Concerto for Violin & Orchestra. Currently, 178 commissions, representing 304 movements for Ensembles of the 3rd Millennium™ comprise the body of recorded work called STORMWORKS.

ASCAP continues each year since 1992 to recognize Melillo's work with Special Awards in Concert Music. In 2005, his documentary in music, Kakehashi: THAT WE MIGHT LIVE was nominated for the Pulitzer Prize in Music. Marking 60 years since the end of World War II, this 70-minute work involved an unprecedented gesture in music-making and made international history. Inspired by and dedicated to the Survivors of the Bataan Death March, Kakehashi was recorded by an ensemble of two American Choruses from Shenandoah and Old Dominion Universities in Virginia, and 143 world-class Japanese military Musicians specially appointed for this historic occasion by the Japanese Ministry of Defense. In 2008, this same work won two Telly Film Awards for History/Biography and Music Concert.  It also won an AVA (Audio Visual Association) Award that same year.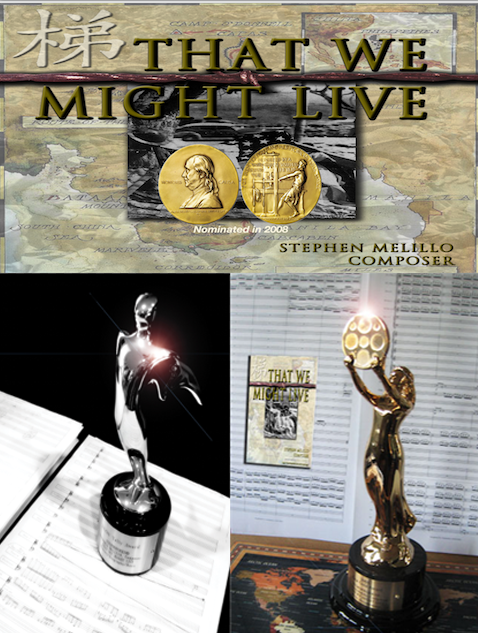 In 1992, Melillo's innovation in self-publishing and digital music dissemination, known as STORMWORKS, established a modern precedent in international music publishing. This process is imitated now by virtually every publisher and composer. STORMWORKS is represented online and via store dealerships in the United States and throughout 28 European and Asian countries.

Melillo's scoring is heard in 17 feature films and 28 network television programs, and in the 1991 Academy Award-nominated movie, 12:01 PM starring Kurtwood Smith. In the early 1990s, he composed game music for Nintendo, Sega-Genesis, and others through his affiliation with Absolute Entertainment.

Melillo's scoring techniques, orchestration, and recording practices with the modern wind ensemble have been the subject of several doctoral dissertations in America, Europe, and East Asia. Many of the world's finest ensembles and conductors continue to employ his innovative strategies and instrumentation. Several of Melillo's students now enjoy musical careers as professionals in an eclectic range, employed as teachers, recording artists, television and studio musicians, and members of major symphony orchestras.


STORMWORKS HISTORY continued:

Sonically, Melillo's Music for Ensembles of the 3rd Millennium™, the "Stormworks" are large-form Modern Romantic works incorporating the significant use of percussion and the reserved usage of synthesizers in the roles of "PAD Bass", synthesized or live Harp, Piano, and synthesized or live Chorus.  There is a simultaneously high regard for "classicalism", as evidenced in the analysis of just one movement (see image below) from the current body of 277 movements comprising "STORMWORKS".  Each of the pieces follows the mathematical form of the Fibonacci Series, or other constructs at the microscopic level of analysis, while at the macroscopic, each of the pieces themselves follows the same unfolding design of the Fibonacci Series.  One clue to this method of organization is the design of the Stormworks Chapters, "0-1-1p-2-3-5-8-13-21-34-55, etc."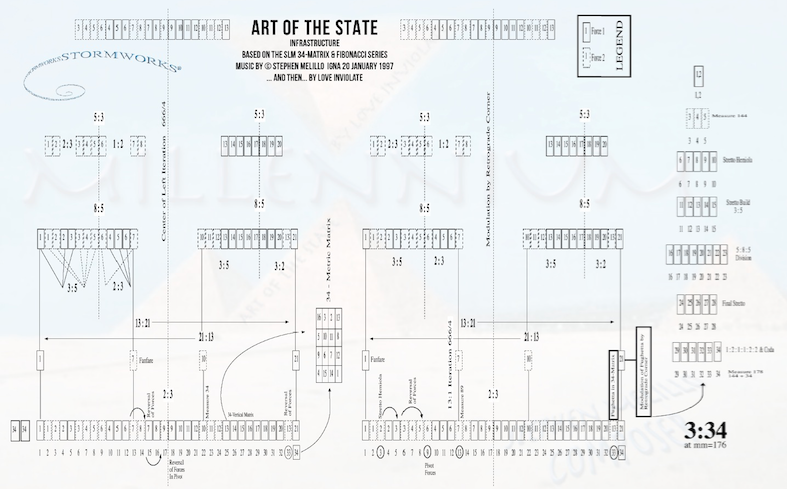 In addition to film work, more than 177 live concert premieres include:


Last World Standing: HEROES of PEACE, rendered by the Sinfonisches Blasorchesters Ried in the Brucknerhaus, Linz, Austria. Karl Geroldinger & Stephen Melillo conducting.


STORMQUEST:  rendered by The Western Michigan University Studio Winds, produced by Dr. Robert L. Spradling, Stephen Melillo conducting.
STORMJOURNEYS:  rendered by The RundfunkBlasorchester Leipzig & Orchestra di Fiati Della Valtellina, Stephen Melillo conducting.
STORMWORKS Chapter 0: WALK on the WATER, rendered by The Dutch Royal Military Band in Rotterdam, Stephen Melillo conducting.

STORMWORKS Chapter 1:WITHOUT WARNING, rendered by combined Musicians from the US Army, Navy and Air Force, Stephen Melillo conducting.
STORMWORKS Chapter 1-Prime:WISH to the WORLD, rendered by Troy University Wind Symphony, Ralph Ford & Stephen Melillo conducting.

STORMWORKS Chapter 2: WENDE, rendered by The RundfunkBlasorchester Leipzig in Leipzig's Gewandhaus, Stephen Melillo conducting.

STORMWORKS Chapter 3: WAIT of the WORLD, rendered by The Marine Band of the Royal Netherlands Navy in Amsterdam's Concertgebouw, Maurice Hamers conducting.

STORMWORKS Chapters 5 & 8: WRITINGS on the WALL, rendered by 143 Musicians of the Japanese Military and The Central Band of Japan Self Defense Force with choruses from Shenandoah & Old Dominion Universities in Tokyo, Japan, Stephen Melillo conducting.
STORMWORKS Chapter 13:WHISPERS on the WIND, rendered by Troy University Wind Symphony, Ralph Ford & Stephen Melillo conducting.

STORMWORKS Chapter 21: WON WAY, rendered by the Sinfonisches BlasorchestersRied in the Brucknerhaus, Linz, Austria. Karl Geroldinger conducting.
STORMWORKS Chapter 55: WAY of the WANDERER, rendered by Das Musikkorps der Bundeswehr. Lieutenant Colonel Christoph Scheibling conducting.

MUSASHI and WAITof the WORLD rendered by The Tokyo Kosei Wind Orchestra in Tokyo, Japan, David Bostock conducting.

The Concerto for Violin, rendered by The SudwindOrchester from Germany, Stephen Melillo conducting.

S-MATRIX, Symphony 2: At Life's Edge, and Symphony IIII: Lightfall, rendered by The North Carolina and Canton Symphony Orchestras, Gerhardt Zimmerman conducting.
Additional Film & TV Scores include:

    •    Reckoning of Darkness
    •    One Little Finger
    •    The Unwilling
    •    Pluripotent
    •    Dwegons& Leprechauns
    •    12:01 PM  (OSCAR Nomination, Best Live Action Short)
    •    PBS Teledrama: Actress Works (EMMY Nomination for PBS Teleplay)
    •    Retrograde
    •    Unsung Heroes (NYPD Documentary)
    •    Aurora
    •    Crossing the Line
    •    Gypsy Girl
    •    Benefit of the Doubt
    •    Basque Legacy
    •    They Bite
    •    Shock-A-Rama
    •    Hollywood Showcase
    •    The Newlyweds
    •    Music for STAR SEARCH
    •    Music for WNEW Radio
    •    ABC Life Goes On
    •    ABC Sunday Night Movie
    •    ABC All My Children
    •    ABC General Hospital
    •    ABC Business World
    •    ABC America's Funniest Videos
    •    ABC American Music Awards
    •    ABC Doogie Howser, MD
    •    ABC Going to Extremes
    •    ABC Good Morning America
    •    ABC Home Improvement
    •    ABC Jack's Place
    •    ABC Loving
    •    ABC Matlock
    •    ABC Nightline
    •    ABC One Life to Live
    •    ABC Primetime Live
    •    ABC Sunday Night Movie
    •    ABC The Commish
    •    ABC This Week With David Brinkley
    •    ABC World News Now
    •    ABC World News Sunday
    •    ABC 20/20
    •    NBC The Fresh Prince
    •    NBC Special: Fairgame
    •    NBC Movie of the Week
    •    NBC Night Court
    •    Nickelodean, Adventures of Pete
    •    Mr. Ed's Corral
    •    Real Kids
    •    Parenting
    •    A Cold Night
    •    Terrorvision
    •    A Horse of Her Own
    •    Unification
    •    Dark Reflection  
    •    Various Cable & Industrial Projects Including Music for Sega, Super-Nintendo & IBM   
    •    Commercial Soundtracks, including Music for the NY Nets, Yankees & Giants



Novels & Books include:
 
Ahab, a Love Story (Original Screenplay)
Ahab, a Love Story (Novel)
Death to Moby Dick, a Love Story
Only for Now
Nogard & Dragon
Music to Picture
Ways of Knowing
Boat Build 2013


Stephen Melillo is a Member of:
 
ASCAP, American Society of Composers, Authors & Publishers
ASMAC, American Society of Music Arrangers & Composers
NARAS, National Association of Recording Arts & Sciences, and  Voting Member of the Grammys
USPA, United Parachute Association
Knights of Columbus
Honorary Member of Kappa Kappa Psi, Tau Beta Sigma


AWARDS INCLUDE:
Best New Age Album in "New Age Radio Awards" (for The Grey II-III) in 2023.
Three Gold Global Music Awards (for Love Conquers All, and the Grey II-III) in 2022.
Hollywood Music in Media Award for "Best Epic/Orchestral" (for Love Conquers All) in 2022.
Telly Award for "Best Use of Music" (for One Little Finger, produced by Rupam Sarmah) in 2019.
Telly Award for "Best Music" (for Reckoning of Darkness, produced by Christopher Kulikowski) in 2019. 
Scorpius Award "Best Music" (for Reckoning of Darkness, produced by Christopher Kulikowski) in 2019.
Pulitzer Prize in Music Nomination (for SYMPHONY IIII: Lightfall) in 2015.
Nemmers Prize in Music Nomination (for SYMPHONY IIII: Lightfall) in 2015.
Three Telly Awards in Biography, History & Music (for Kakehashi: That We Might Live) in 2009.
Gold AVA Award (for Kakehashi: That We Might Live) in 2009.
Pulitzer Prize in Music Nomination (for Kakehashi: That We Might Live) in 2009.
Stephen's 15 feature film scores include the Academy Award-nominated 12:01 PM.
LINKS
 
stormworld.com
BIO at stormworld.com:  http://stormworld.com/bio/
DIGITAL LIBRETTI:  http://stormworld.com/digital_libretti/
Personal History: http://stormworld.com/history__personal/
MUSIC to PICTURE:  https://itunes.apple.com/us/book/music-to-picture/id503874009?mt=11
WAYS of KNOWING:  https://itunes.apple.com/us/book/ways-of-knowing/id626780348?mt=11
NOGARD & DRAGON:  https://itunes.apple.com/us/book/nogard-dragon/id619961386?mt=11
ONLY for NOW:  https://itunes.apple.com/us/book/only-for-now/id963950328?mt=11
AHAB, a LOVE STORY (Screenplay):  https://itunes.apple.com/us/book/ahab-a-love-story/id604035162?mt=11
AHAB, a LOVE STORY (Novel) on Amazon:  https://amzn.to/2tpUXhV