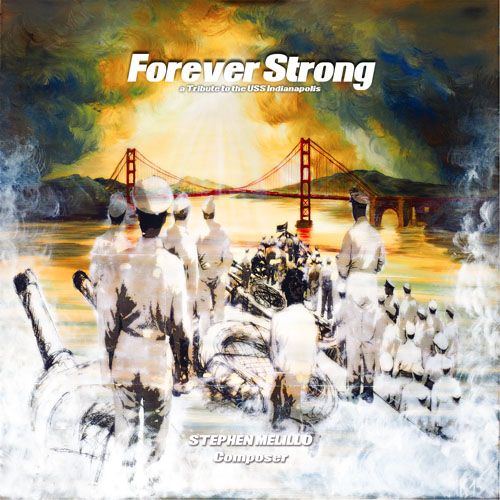 Forever Strong EXPLORE
An Exploration of the Film & Music Versions

Choose: mp3 w/film, or Data DVD w/all PDFs, aifs, mp3s, HD Film
 
FOREVER STRONG, a Tribute to the USS Indianapolis
(33:17 Audio mp3 and film link)
by © Stephen Melillo IGNA 30 July 1945-2015.

After your purchase of the 33:17 track for just $4.95, you will be emailed links to the mp3 and an iPhone-compatible m4v "Visually Scored" Documentary Film with accompanying PDFs at DigitalLibretti. Just scroll down until you see all of the accompanying FOREVER STRONG PDFs.
Watch and listen to an introduction made by Raymond Jones on WHRO, 7 December 2014 for the Radio premiere of the AUDIO version of FOREVER STRONG.
"Sometimes, our greatest victory emerges from the battle we never wanted to fight." (from piece #844 written back in 1997)
  In the 70th anniversary of the USS Indianapolis Story, piece #1103 in 33:17 by © STEPHEN MELILLO IGNA 30 July 1945-2015 was composed.

The 33:17 Musical Work (because there were 317 Survivors) is rendered and conducted by the following 216 Musicians, and with great thanks:

70 Musicians of the Marine Band of the Royal Netherlands Navy, Peter Kleine Schaars, Conductor

54 Musicians of the Dutch Royal Military Band
Stephen Melillo, Conductor

62 Musicians of the Rundfunk Blasorchester Leipzig
Stephen Melillo, Conductor
26 Singers of the The San Diego Jewish Men's Choir, Ruth Weber, Conductor
Adelmo Guidarelli, who sings an original arrangement of "Eternal Father."

Recorded by Lex van Diepen, Chorus by Dan Abernathy

"To the families of those Lost at Sea, to the Survivors of the USS Indianapolis CA-35 , to their families, friends and all who support them, and to those currently serving in the Defense of Freedom… The USS Indianapolis and 880 of her crew never did physically return to the Golden Gate... the one here that is. In Heaven and in our Hearts, the ship and her crew will always be coming home to loving, waiting arms.  With that Message and in that Purpose, this work is lovingly offered." Godspeed!  Stephen Melillo
 
Rupam Sarmah, Composer & Producer
"Steve, your brilliant musical composition crafted around the heart wrenching story of the USS Indianapolis far exceeds any awards. Your creative work is a gift to this world. It takes us through a journey of emotions and love in our hearts that will remain forever strong for the lost families, friends, supporters and survivors who dedicated their lives for our country. This is a masterpiece beyond measures!

Press Release "Album of the Year" 20 October 2015
33:17 DVD at Createspace
33:17 Audio at CD Baby
Streaming Download at AMAZON
FOREVER STRONG, a Tribute to the USS Indianapolis (CA-35) Exploration

When asked to record for the Survivors of the USS INDIANAPOLIS

"In our little country there is a big knowing that many men and women once fought for our freedom! Even after 70 years and 3 generations later the veterans are in our hearts with lots of respect. So when the composer Stephen Melillo asked our Marine Band of the Royal Netherlands Navy to make a recording of the composition "Forever Strong, a Salute to the USS Indianapolis," and dedicated to the veterans of the USS Indianapolis I didn't have to think long about that question. The answer was... of course! It will be a privilege to honor these men and their families! On the last Saturday of June we annually honor our veterans by a concert in the Parliament House and with a big parade in our government city, The Hague. We honor you with this recording and thank all of you veterans for the great efforts and sacrifices you have made to give us back our freedom! God bless you all. Major Peter Kleine Schaars, Music Director of the MBRNN"
From Survivor Edgar Harrell, aboard the Indy on 30 July 1945

"Good Evening My Friend Stephen; I had a chance to hear "Forever Strong," waiting for my wife Ola to get some time to hear and watch again with me. Her first comments were, "Fantastic, yes super special. I could identify the story from the variations of the music. The music tells the seriousness of the Indy disaster."
Great Music to remember the greatest tragedy at sea in the history of the US Navy, about a great ship, the sinking of the USS Indianapolis.  National Geographic is doing an extensive or 4-1/2 hour special interview with me concerning my story and book "Out of the Depths." Needless to say that I was already much into the Indy tragedy plus my own personal trauma of my experience when I began to hear the music on "Forever Strong." Hearing the music and watching, brought out much reflection and recollection of those 4-1/2 days of terror.  National Geographic is determined to locate the Indy. If and when they do locate the Indianapolis, then some six of we Survivors will be flown to Guam and from there delivered to the Indy burial site. A special Memorial service of Honor will be given in dedication, My son and I have been asked to join.
"Forever Strong" would be great to hear at the memorial site. Stephen, we wish you a sense of honor as you help us in our dismal reflections of yester-year.
God Bless, Semper Fi," Edgar Harrell - USMC, Survivor USS Indianapolis
Accolades

AEONE, Artiste & Composer
"I don't even know where to begin as this is such a magnificent piece of music on so many levels and for so many reasons. Your writing was epic, dramatic, moving, loving, holy and incredibly beautiful with an underlying majestic quality and in spite of the horrors that were part of this story - left me with a sense of something noble in my heart. It was the nobleness of all these men who were lost, those who survived, those who saved them and indeed, for the great ship itself.  I loved your score and the instrumentation and how it was tremendously dynamic and hit so perfectly with the picture early on with the war scenes and the shifting as the ship went down and the waiting - the choices of instruments and use of sound, how you used the other-worldly synths and sound design in with the score - plus simple use of voices/choir. I also appreciated how it never went over the top with pomp and ceremony or emotion but, was steady and true and just beautifully and musically written. By the time it got to the very simply sung but, moving rendition of "For Those in Peril on the Sea" I literally sat with tears pouring down my face and simply could not stop.  This is glorious music played from the heart and written from a place of such deep spirit. Thank you so much Stephen - your music and your gift is great and indeed the gift of it, is beyond measure."
 
Sarah Partridge, Vocalist & Composer
"I am listening to FOREVER STRONG right now and am moved to tears. The music is so powerful... meaningful, full of passion. Beautifully orchestrated. The mixture of the orchestra, voice, and narration fit perfectly and seamlessly. An incredible story told through music… and rightly so. This SHOULD absolutely be an album of the year!"

 
Jeff Silverman, Composer, Music Editor & Producer
"OMG! I'm listening to your incredible music score and after reading what is such a heart wrenching story and admirable tribute, I am spellbound and AM SO moved. SO visual. Great to have some spoken word / story to go with it but the music REALLY stands on it's own.  I love the use of the classical elements with sound design. VERY effective in the very ominous parts. Your ability to capture such a high level of energy and power, drama and suspense with the music is stellar! And the moods... You've created a plethora of emotions that are clearly defined, felt and heard.  I have much more to say but had to reach out and say how impressed I am with your work and all involved and I will be certainly be supporting you!!! Warmest,"
 
Ginny Carr, Composer, Arranger, Vocalist
"WOW! I have just listened to "Forever Strong," and I am spellbound. You are a composer's composer, and that work is nothing short of magnificent. It reached me on so many levels. As a composer/arranger myself and someone who writes for combined vocal-instrumental ensembles, I am in awe of the musicianship behind every aspect of it, from genesis to composition to execution. Thrilling and hauntingly beautiful."

Peter Spero, Composer & Producer
"Steve, just freaking incredible.  Sooooo moving and an event that needed to be expressed in this way.  I say this because so many important moments in our lives as a nation, and in history, are expressed in full length films, which are great too but not always consumable for everyone, and 5 second remembrances on network news.  Your vision of remembering this event was simply amazing, very much like a painting for me, each brush stoke contributing to a masterpiece.  The careful use of FX was nicely done brother, right moment, right passage, really really great work. I gotta say, after I finished listening and watching your film version, I was emotionally drained by the story, the drama, the reality, and the way you guided us through the events, and exhilarated by the shear raw emotional edge, using the entire emotional spectrum.  When the struggling warriors who survived were finally rescued, small tear man, gotta admit it.  The music was just astounding all around but my favorite moments were 12:26 SOS sound, into 12:39 haunting strings, 12:46 haunting vocal choice which faded into wind.  14:24 when the words of Paul J Murphy were read, sooooo freaking moving!!!  Starting at 20:36 when the discovery and the rescue sequence started, this was an incredible sequence that brought me out of the intense worry and concern emotions into the light of elation and thrilling relief that at least some were found and rescued.  Well, I'm emotionally drained right now so thank you so much for your artistry and you creation, incredible work man!!!"
 
Madi Das, Composer & Producer
"I have been moved and inspired by this beautiful piece of music from Stephen Melillo. Both an important historical tribute and an amazing achievement in international collaboration, the work is expansive and intimate, emotional and powerful, and ultimately a befitting memorial to the brave Souls of the USS Indianapolis.
Related works:
Kakehashi: THAT WE MIGHT LIVE
THAT WE MIGHT LIVE (excerpt at Vimeo)
THAT WE MIGHT LIVE at CreateSpace
LAST WORLD STANDING from Chapter 1
Thanks so much for listening, for considering and of course for your much appreciated Time!  Godspeed!  Steve

FOREVER STRONG (The Printed Music)
© STEPHEN MELILLO IGNA 30 JULY 2015
Choose: mp3 w/film, or Data DVD w/all PDFs,aifs, mp3s, HD Film