Info & Planner, understanding the PAD Bass, staging & more.
Please forward this page and/or print it as needed.  Please scroll to the bottom of this page for the Science & History of the PAD Bass.
Today's most cost-effective, best sounding, simple and elegant system awaits you and the kids!  Much more on the STORMSystem is below and available to you under the "Resources & STORMAficionados" menu item. Please read, digest and Enjoy!

Download a 310 MB folder of Resources and How to use STORMStage.  Click Here for the DROPBOX link.
To COMMISSION:  Please email stormlab@stormworld.com.
Visit the History and Personal page.
Download the Commissioning Agreement PDF, fill in and send to Stephen. 
Download the STORMWORKS Creative & Guest Conducting Fees.
Mailing list!  Click Here
To arrange a complete field show, please download Permission to Arrange in PDF.
To arrange portions of a field show from STORMWORKS, please invest in the original concert work(s) and then contact Tresona Music at https://tresonamusic.com
PLANNER!
 
Letter to Coordinator:
Please have a whiteboard or blackboard available.
It is necessary to have 2 well-prepared keyboardists in the ensemble. One keyboardist will play the Harp on Synthesizer, the other will play PAD Bass. In the event of rendering a work like ESCAPE FROM PLATO's CAVE... THREE keyboard players are needed, the 3rd playing Acoustic Piano.
In recent events, the Acoustic Double Bass player also played keyboard and enjoyed a more intense experience by becoming our PAD Bassist.
Speakers should be positioned as illustrated within each of the "storm" scores, and the set-up should be made to approximate the given design, accommodating as best as possible the variance in numbers. The larger the group by example, the more the Tubas should be seated forward and to the right of the Conductor.
Below is the basic STORMWORKS Seating Plan and the use of a Laptop running Mainstage 3 (available at the app store) to access the complete sounds for Band of the 3rd Millennium™.  Then download STORMSTAGE 3 by clicking here. (zipped from dropbox.)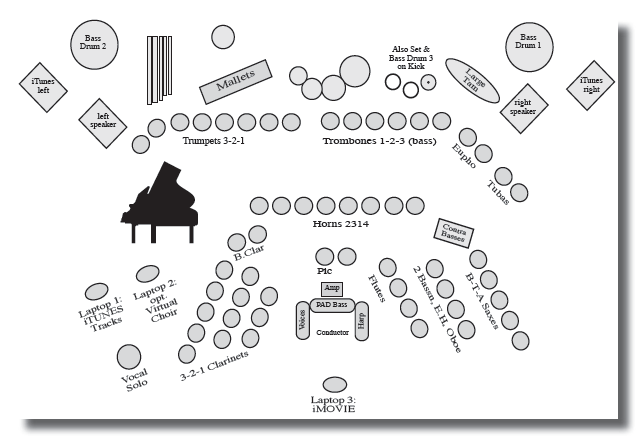 Though this particular seating was experimental at the Time, it produced wonder-filled results in transparent orchestration and clarity of effect and stereophonic writing.  It used around the world and has been the subject of doctoral dissertations.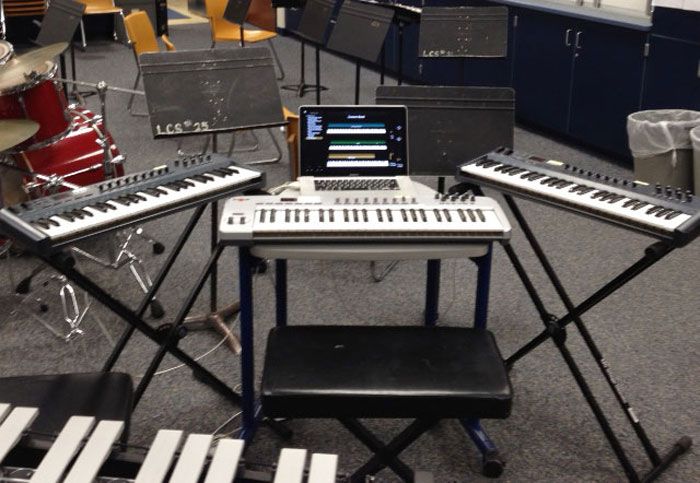 It is imperative that these parts be carefully planned for, the players carefully chosen and the equipment properly set-up and positioned. If there are any questions, please call. In the photo above, the set-up is in the extreme. But those who played in it, and those who attended this concert will tell you that the sound was glorious. Several parents called the sound, "studio-transparent."
A possible Logistics Problem will be in the usage of the HARP & PAD BASS Synthesizers. Please review my seating chart for the placement of the equipment. We need to troubleshoot the set-up before any rehearsals so that no time is spent on technical matters.
It is also important that there be a TIMPANIST. These parts must not be rotated. I would prefer an orchestral approach to the Timpanist.
I will often write for one oboe, and most often, one bassoon. I would suggest limiting these seats to solo players. I do not write Alto Clarinet as an integral part of all the compositions, but should these players be included with no part in that particular piece, they will have to double parts. I would prefer that they read transposed 3rd Clarinet Parts.
Program Notes will be contained within the Tabloid sized scores. I will conduct from these scores when I arrive. If there is anything I need to know in addition to these important requests, please advise.
PROGRAM: Please call so that we can discuss what you need and hope for.
Please make the following information available to the personnel it has been written for.
For the SYNTH-HARPIST!
If you haven't done something like this before, feel confident. It's simple and you will make a significant contribution to the experience.
A word about the HARP notation:. I literally write as if the part is for harp... (considering, of course, that the part is most likely to be played on a keyboard.) Therefore, the Musician should be aware of how to respond to harp notation, though often written in one clef.
Here's how. If you see a 7-note figure with a harp-like graphic notation... it represents a glissando across the whole keyboard. Limit yourself on the top however, by not going over C-5, or two octaves above middle C. The glissandi, when they occur by the way, only happen across the white keys. Convenient, huh?
Fast rhythmic figures are designed to work as a tremolo between the two hands. The fast rhythms, sextuplets or 32nd notes are not to be read exactly as appears, but as splashes of colour and rendered in a harp-like manner.
You can practice at the piano, or better yet, at a synthesizer, being sure to make use of the sustain pedal, a proper stereo field in the mix, and reverb as available on the keyboard or software.
Much more on the PAD Bass and the STORMSystem are below.
If there are any questions, please call me. Godspeed! S
For the PERCUSSION ADVISOR!
Percussion of Choice: One 18" Medium-Thin and one 16" Paper-Thin Zildjian Suspended Cymbals, one 22" Medium-Heavy German Symphonic Zildjian Crash, one Tambourine with German Silver Jingles, one Piccolo Snare, tightly tuned with coated batter head, Deagan Silver Chimes, Large Orchestral Bass Drum, and of course, the highest possible quality of Timpani. The designation "Glockenspiel" always means "Orchestra Bells."
Snare parts and conga parts are often "groove" oriented parts in "STORM" Music.
Percussion is an important aspect of the Music I write. Please review the scores which were chosen for this event. Percussion is often written in a combined score. This is done to provide for a number of possible scenarios. Players should be distributed into their parts logically, based upon available Musicians.
If there are any questions, please call. Godspeed! S
THE PAD BASS & STORMSystem
"I am unfamiliar with the term PAD bass. Is this a synthesizer using a bass voice?"
Yes... but the bass voice utilized must have certain characteristics, which I'll address with words and with links to quick time movies. Even though highly compressed you will understand the nature of this sound.
On your particular synth, or virtual library running through something like LOGIC, or now as of 2013 MAINSTAGE 3, which I will discuss later, look for patches with name-types like WARM PAD, or SLOW STRINGS or STRING PAD. Because many manufacturers make use of the term, "PAD" in their patch descriptions, I have adopted the term PAD Bass so as to cover a range of possibilities across a variety of different synthesizer manufacturers.
BUT, the synthesizer needs to be detuned by an octave, possibly two dependent upon the synthesizer in question. (Whether it is a 49-key controller or an 88-key controller for instance.) The resultant tones, void of "rosin", should sound an octave and 2-octaves below the Tubas, or lowest element in the ensemble being voiced. Good examples of the PAD Bass reside on the STORMWORKS CDs.
Even this represents a much older version of the STORMSystem.
To read more about the beginnings of the STORMSystem and STORMWORKS itself, please download the Chapter 13 Libretto here.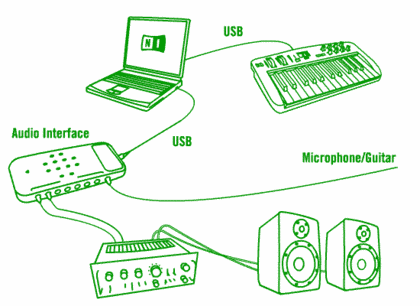 "Nothin's wrong with electricity." George Duke
(On Synths) "God Bless 'em all!" Johnny Mandel
The STORMWORKS Chapter 1 Prime CD: a WISH to the WORLD was recorded at Troy University.  The set up you see photographed below is now even easier, less expensive to set up...  AND the quality of sound is much improved!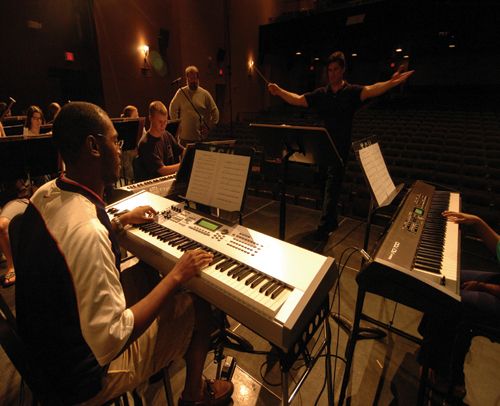 "I am beginning to understand - A sonic field - transparent - like strings - needs to be created to make your music so effective. Synth - Harp - Pad Bass- voices - aux percussion creates a depth - sets the expectation for sounds not always listened for in a traditional band setting. Multi-dimensional sound canvas. A glow - takes new thinking - well, worth it! Harmonic Series pops Richness - (kind of a Haiku...)" Tom Davis, Canandaigua City School Music Department
"Hi Steve! On Tuesday I rehearsed (correct English?) with my band with the PAD Bass and just after few minutes I and many of the musicians could hear the perfect fifth playing only C. This is a great thing, and so they start to hear and listen what they are playing! I would thank you another time for your teaching." Giovanni Bruni, Italia
on 6/2/05 7:37 AM masaki takahashi wrote: "It goes from tomorrow to the 6th to Nagoya to perform. It is a combination concert of the army, naval forces, and the air force this time. Keep our do tuning of F every day. The thing that goes out considering the down beat just is considered. Ganbarimasu!! I will do a good performance." Takahashi
You are an EXCELLENT Man, Takahashi! All my best to the JASDF Bands, and to Major Matsui. You are all doing the right thing! Dmo Arigatogozaimassu & Godspeed! S
"I want you to know that your methods and ideals for instrumental music pedagogy have had a profound effect on my ensembles. Since August, we have implemented the PAD Bass into all facets of our daily rehearsal routine. It is now not uncommon for me to hear overtones when the students tune themselves, and my bands are finally achieving a characteristic sound that has eluded me for the first six years of my career." Ron Fussell, Mastricola Middle School
"I have to tell you, I tuned my jazz band today, at the summer music camp. I used the PAD Bass set an octave below the tuba and by the time I made it up from the bari sax and bass trombone to the tenors, I heard the 5th ringing like someone was playing it!!! Hairs stood up on my arm, amazing!! The kids were flipping out, it was awesome." Mike Iapicca, PA.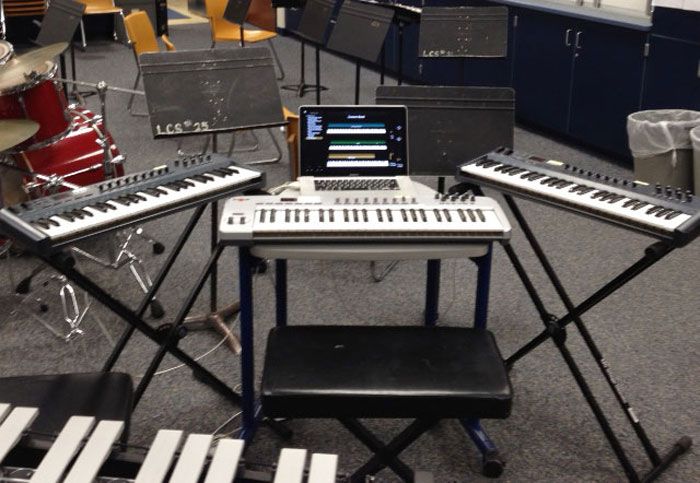 SOUND SYSTEM JUSTIFICATION 2001
The Music of the 21st century composed for the High School Concert Band has seen many changes. The inclusion of synthesized sounds, played by a piano proficient student, is becoming more important as we progress into this new realm of possibilities. PADBass, Harp, Piano and Voices from this new source add to the overall capability of the modern High School Concert Band to render some of the most moving Music yet written.
In order to properly render this outstanding Music and to involve more students in this moving experience, it is important to have the necessary equipment. A sound system with the correct amount of power and clarity is essential for our Band to be able to render this Music. Not only will it enhance the types of Music we can experience, it will also become an important part of our curriculum in teaching the basic concepts of tuning, intonation and sonic mix. We are already utilizing a synthesized bass in our Marching Band. It would be very rewarding for the students playing this instrument to become part of the Concert Band. It is our resolve to bring the wonderful world of Music to everyone possible and having this sound system will make that possible for now and years to come. Mike Lee, Lovington HS, NM, Commissioner of Kakehashi: THAT WE MIGHT LIVE.
Band of the 3rd Millennium™: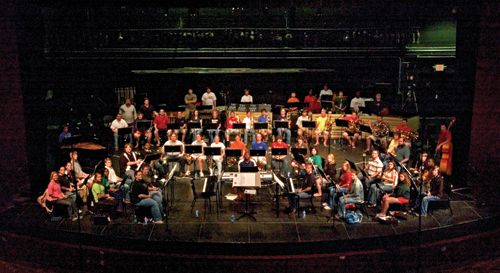 In the Band of the 3rd Millennium™, the orchestration utilized in STORMWorks, we find the wind and percussion ensemble augmented by the use of 2 synthesizers. A seemingly innocent leap, it is replete with functionality. (See also Function Chorales under Teaching Tools.)
The generic sounds ascribed to the synthesizers are: PAD Bass, (sometimes doubling Piano) and Harp.
See an Unedited Article about the PAD Bass as originally written and intended by Mike Lee for the Instrumentalist August 2001 Issue.
See an Unedited Article about the PAD Bass as written for the October 2001 Issue of School Band & Orchestra Magazine.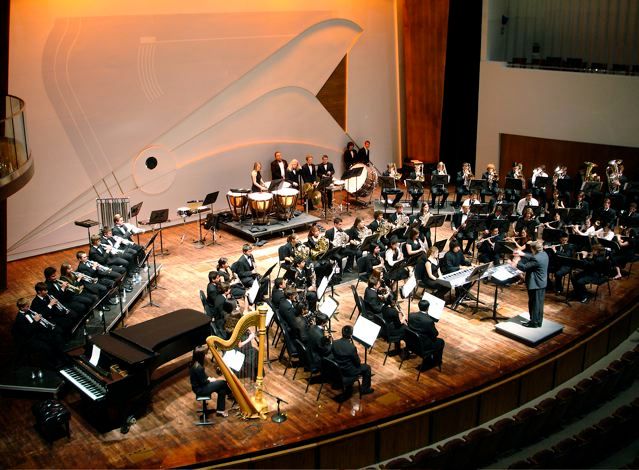 Photo by Sean Collins on the premiere date of The Universe Below
I have, in all of the "Storm" works, and since 1979 written for an instrument called the PAD Bass. There has always been an immensely strategic reason for doing this, and the possibilities for dramatically improving the experience of Band are considerable.
The PAD Bass provides a new fundamental for the Band of the 3rd Millennium™. While accomplishing the task of releasing new overtones into the sonic-scape of Band, it also provides an inviolable fundamental and tuning reference. Intonation and Tuning are immediately improved.
Because the instrument functions by supplying a fundamental at least one octave below the Tubas, it also provides for, and reinforces the correct path of listening from the wind players, which is towards the base or fundamental. Correctly implemented, the simple addition of this new instrumental colour will provide for a whole new world of acoustic possibilities in the winds and percussion idiom.
In addition, Music Education is enhanced by means of the following: Students who might otherwise not be a part of the band program, pianists by example, now have a place and important function. The instrument (instruments, when including the synth-Harp) presents the opportunity for consistent rehearsal practices, including the commencement of a rehearsal by the simple sounding of the concert "F."
See also my integrated Philosophy of Music Education to see the connections between the Teaching Tools and the Music.  Look under "Resources & STORMAficionadoas."
Access to the keyboard in the rehearsal environment provides for greater student interaction with instruments belonging to a more complete inventory of the modern orchestra. It also provides a medium for exploration, experimentation and of course, the demonstration of score passages, etc. Utilize the PAD Bass to establish the rehearsal by providing the reference fundamental. From the Concert F, the entirety of the rehearsal logically unfolds.
In an article written by Janet Hoyt-Boyens & Kurt Schwarck entitled: On a Mission to Commission Music, which appeared in the February 2001 School Band & Orchestra Magazine, the directors discuss their experience with the PAD Bass.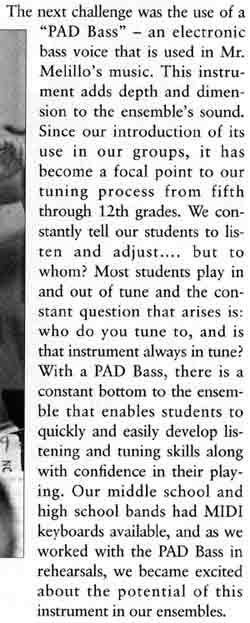 Here is what you need, provided you have a laptop.
MAINSTAGE 3 from the APP Store. $30
3 M-Audio 49-key keyboards, priced at $49 each at Sweetwater.com

USB hub
Sound System
From the 1/8th inch stereo plug on the laptop... (friends, do not be deceived, your laptop is sending 96kHz quality sound through that port. That is SIX times what you need for CD Audio!) ... run cables back to the 2 stereophonically placed JBL or similar self-powered speakers. For help on getting a cost-effective, but powerful, lightweight system, contact Sweetwater at the contact info provided above.
From STORMSummate #1 in Pennsylvania, June 2008
This is the best STORMSystem to date. But now... years later, it requires even LESS.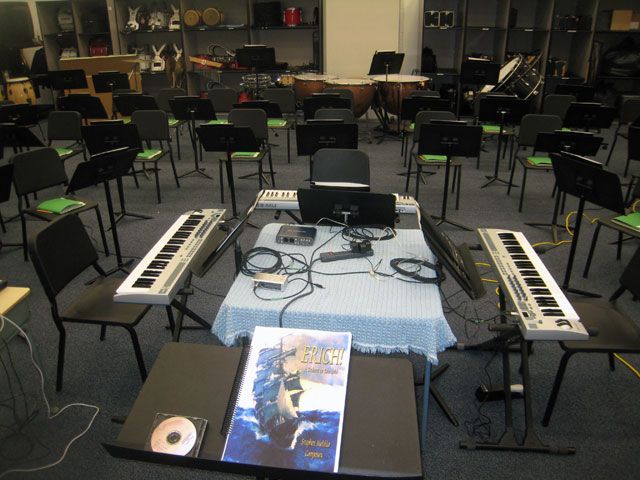 Now, let's take a look at some photographs from Glen Roberts' STORMSystem 2012-2013
Glenn is using the very cost-effective, 24-bit, 96kHz-powerful 4th Generation STORMSystem, namely:MAINSTAGE 3 from the APP Store. $30
MAINSTAGE 3 from the APP Store. $303 M-Audio 49-key keyboards, priced at $49 each at Sweetwater.com
3 M-Audio 49-key keyboards, priced at $49 each at Sweetwater.com
USB hub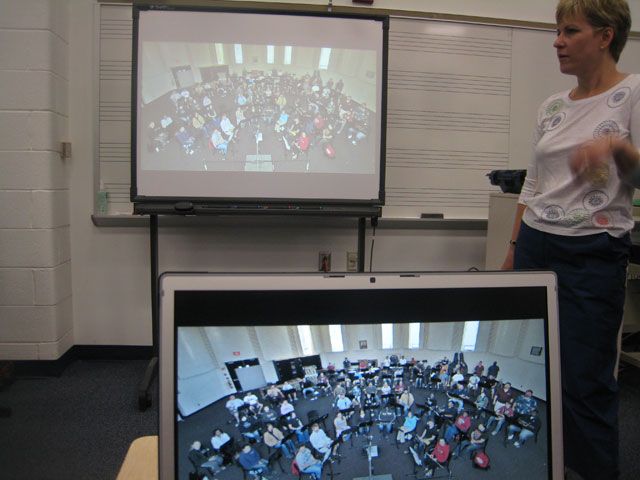 Enjoy & Godspeed! S
A Brief Science & History of the PAD Bass
Back in 1979 while working with beyond-cutting-edge people at M.I.T. in Cambridge, Massachusetts, I realized that the "future" resided in the use of technologies, which at that Time were unheard of or regarded as toys.

In 1980, I purchased a Korg Poly-800 Synthesizer and a Commodore 64 Business Computer, and with it, an outlandish-new device called a MIDI Interface. I was quick to incorporate them into the Music Education classes and of course, the Band. I still have these wonderful heirlooms as museum pieces!
In 1981, I incorporated the synthesizers with my high school jazz ensemble and concert band. Also in 1981, some 25 years ago... a student who aspired toward attending the NYU Film School, prepared a 16mm Film which was projected above the Band and scored Live via streamers and punches in a concert involving the student-made 16mm projected film, live Musical scoring, synthesizers, stage, lighting and sonic effects.  A foreshadowing of the 2006-premiered piece "Last World Standing".
Ironically, and just as it did with Last World Standing, this film had stock footage of the Atomic Bomb within it and dealt with the effects of War.
In 1982, I began utilizing first a Yamaha and then a Roland synthesizer to generate a fundamental in the Band Orchestration, which up to that point existed only in the Orchestral world. Enter the PAD Bass!
In 1983, a wonderful and pioneering experiment in field Music called STUDIO SOUND IN MOTION made use of synthesizers, guitars, basses, pre-recorded soundtracks, (everything from dialogue tracks to machine-gun fire, airplane crashes and much more!) ... and all sorts of special spatial effects and sonic theatrical devices rendered live via power from marine-batteries. We were pioneers some 36 years ago! Those special kids will always be dear to me because of their unbridled collaboration in exploring new frontiers. It was all so fitting for the Music Education of that Time and for the Music Education still yet to be fully discovered even now.