Are you surprised... happy perhaps to see such a tab?  Please consider these words from the score notes of the piece, MUSASHI :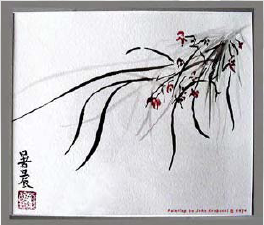 The character, Miyamoto MUSASHI writes about setting his mind to paper in the long-lasting form of ink...

Also at that Time, not really so long ago, I approached a young man who was carefully brushing the painting above. I watched him throughout its entire rendering.  When he was done, he turned to me.  With a generous smile, the artist offered the painting to me as a gift. He penned a personal note on the back, one I will always cherish.
Though indeed, so much Time has passed, the circle of that synchronous connection endures. This piece, Musashi, inspired by the reminiscence of boyhood studies and adventures past is, in part, a small gift back to him, John Hrabushi, and to all people who send into the Universe waves of Kindness which begin as gentle ripples and expand in their touching, until one day they become manifest as an act of unbridled Heroism and Giving.
We have so many opportunities to be Kind...
Godspeed! Stephen Melillo, and thank you for visiting this site.