Here is what to look for in this STORMWORKS Chapter.  Scroll to the piece to learn more and order.  You can listen via STORMTRacks. Enjoy the Journey & Godspeed! S
| | | | | | | |
| --- | --- | --- | --- | --- | --- | --- |
| Time | Music for: | STORMWORKS Chapter 13: Whispers on the Wind … 74:33 | Mvms | Print SCORE & PDF Parts | SCORE & Master Set/PrintParts | Per. Score |
| 0:04:42 | CB G4+ | IN EINEM ANDEREN LICHT | 1 | 80 | 95 | 30 |
| 0:02:25 | CB G3 | IF … Musical Haiku #27 | 1 | 75 | 85 | 30 |
| 0:05:14 | CB G4+ | Music from BEN HUR | 1 | Available through Alfred | NA | NA |
| 0:03:46 | CB G5 | THEME for the SPECIAL OLYMPICS | 1 | 90 | 100 | 40 |
| 0:06:40 | CB G4-5 | OUR TIME as a SONG in the UNIVERSE: Whispers on the Wind | 1 | 100 | Only as PDF w/pre-record | 40 |
| 0:03:01 | CB G3-4 | ONE MOMENT to ETERNITY … Musical Haiku #30 | 1 | 75 | 85 | 30 |
| 0:01:00 | CB G3-4 | AMERICAN MUSIC ABROAD Fanfare | 1 | 50 | 65 | 30 |
| 0:13:33 | CB G6 | ICONOCLAST: The 4th SIGN | 1 | 140 | 160 | 50 |
| 0:33:33 | CB G4+ | LAST WORLD STANDING, A Visually Scored Work using PhotoRHYTHM™ & VISAReel™ | 3 | 220 | Only as PDF w/pre-record | 100 |
| Time | Music for: | STORMWORKS Chapter 13: Whispers on the Wind … Additional Pieces on DMC | Mvms | Print SCORE & PDF Parts | SCORE & Master Set/PrintParts | Per. Score |
| 0:04:52 | Timpani & Trumpet | RAGE | 1 | 50 | 60 | NA |
| 0:03:33 | CB G3-4 | FOR the LOVE of JOHANN | 1 | 75 | 85 | 30 |
| 0:02:38 | CB G3-4 | HYMN to the MARINES  (see QT Film on STORMSite/Digital Libretti) | 1 | 50 | 60 | 30 |
| 0:05:00 | CB G2 | NIGHT of the SHOOTING STAR! | 1 | 65 | 75 | 30 |
|   | COMPLETE SUITE 102.33 | Whispers on the Wind: Complete Suite on CD-ROM |   | 695 | NA | NA |
Testimonials for STORMWORKS Chapter 13: Whispers on the Wind
"I attended a reception in the president's suite after our concert. Nearly everyone referred to OUR TIME as a SONG in the UNIVERSE in some manner. Even the people that did not get it... the piece STILL had some profound effect on them. They just couldn't express it. And so, once again, I can prove that there is SOMETHING in your Music, your Orchestrations, God only knows because even I still cannot explain it. We can play and play, sound really good... then jump into a Stormworks, and the same group sounds completely and profoundly different. When I was on Sabbatical last semester, I went to the Veterans Concert, this time conducted by Mark. They played and played and sounded great. I was not only very happy, but really impressed at the quality of the group under Mark's leadership. Then, the premiere of the piece for the Chancellor started (DESPITE ALL ELSE) and....the entire sound changed. It surrounded the audience. Suddenly, we were all awash in this amazing sound... more than just the sound, though. This is what I am still trying to understand about your Music. People who don't know immediately write it off to the use of electronics, but that simply is not the case. They don't get it. The electronics certainly add to it, but that is not the only reason. I have played and heard other pieces using electronics, including my own, and it does not achieve the same effect. So, my study continues. Your friendship and guidance and willingness to share continues to help me understand Music and myself a bit better each day." Ralph Ford, Troy University. (Ralph. Thank you for so much. for your Kindness, your Generosity. The kids sounded great, and in fact brought tears to my eyes. I thank them and I thank you for allowing me to share these thoughts with other Conductors.) 
"I have just listened to the new Stephen Melillo, Stormworks Chapter 13: Whispers on the Wind CD. It is without doubt one of the most exciting band works I have ever heard. Stephen Melillo, with his super talent, is in a class by himself and years ahead in this creative world of music. His is definitely on the cutting edge in the future of music." Dr. John M. Long, Distinguished Professor of Music, Dean Emeritus, Troy University
"Dear Steve, I never had the chance to talk to you about Last World Standing. I have played your Last World Standing three times in the last week alone. What Brilliance! What work! a true masterpiece and the work of a musical genius!" Tom Walsh, Executive Producer, EnterAktion Studios 
"Dear Stephen! Great, wunderbar!! It's a special sample of very emotional music. It's very extraordinary!! I guess that's a new step in instrumentation and arrangement of your great works, but each composition is typical for "Stephen Melillo"!! Very deaply sound, the track with Martin Kiener sounds like an Symphony Orchestra. Sorry, I'm not able to describe it in english, but this CD takes the Concert Band Music in a new dimension. In my opinion, the great bands and band directors like this music and the people in the concert halls would be touched by such wunderfull music all over the world!!!!! Godspeed" P.S. The Beginning of our last concert with SBO Ried an 26.10. was with your opus 1... and now, it is on Chapter 13. That`s great of you, to give your first, wunderfull work to your new CD!! Gerhard Reischel, Conductor Landesmusikschule Leonding, Austria 
"Composer Melillo is gifted and blessed with a God-given talent he gives and shares with the world. When one listens to his music, an intense spiritual statement immerses one into his beautiful world of musical expression. Melilloís compositions are different from all other composers! Immediately one is captivated by the depth and soul of his craft. I encourage you to listen and view his Last World Standing. This is a monumental piece of music that delivers a most profound musical experience about our life and the wars that we have lived through. Thank you, Steve for the massive contributions you are making to our musical world." Edward S. Lisk, Clinician, Conductor, Author 
"I love this piece and so do the kids. We are going to have a fantastic concert. Your materials are helping this ensemble mature at an incredible rate, and they are EATING IT UP!!! MANY THANKS!!!" Lou Vitello, Clarence HS, NY 
"I was fortunate enough to be there for the premiere. It was simply stunning. A great work that defies stylistic categorization; a totally "new" concept in performance. It is as revolutionary to the band world as Wagner's music drama concept was to opera!" Aldo Forte, Composer
Listen on TRACKS.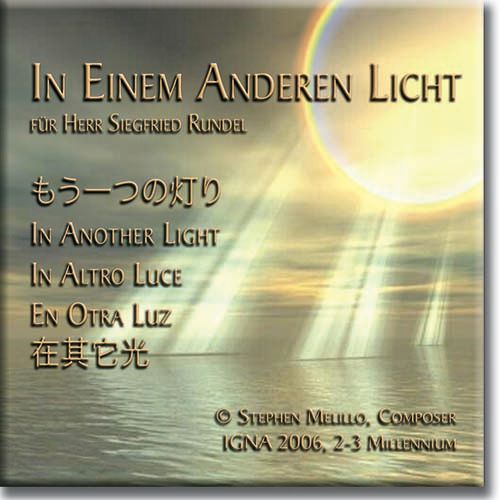 In Einem Anderen Licht
Click Here to View Perusal Score
"In Einem Anderen Licht is going very well with the members of Concert Ensemble. They are going past the printed page which music is all about. I asked each student to describe your work in one word.
Responses were:
Fierce
Amazing
Powerful
Heroic
Intense
Whirlwind
Exciting
Emotional
Poetic
Awesome
Thanks," Joe Filio, Liverpool HS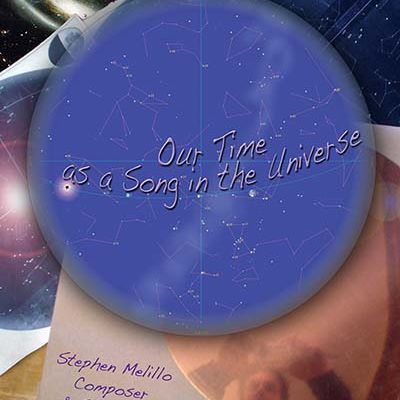 OUR TIME as a SONG in the UNIVERSE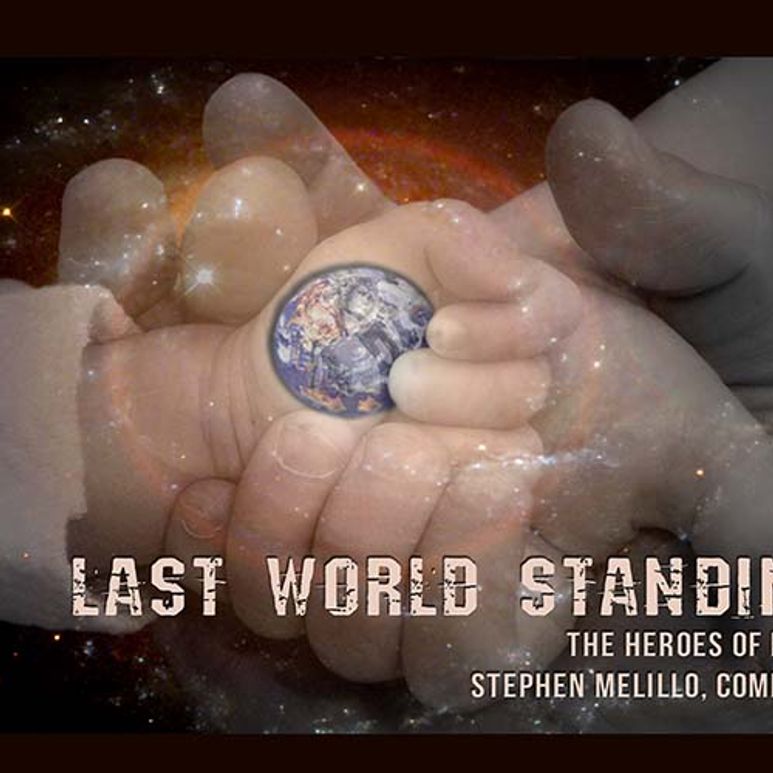 LAST WORLD STANDING
a Dramatic Theatrical Work with Photorhythm™ & VisaReel™
Click Here to View Perusal Score
Description
This letter is from Mr. Sam Ring. Sam is one of the many True Heroes that I've had the opportunity to meet since writing Kakehashi: THAT WE MIGHT LIVE and making the Historic 5:8 CDs in Japan. If you've seen the John Dahl film THE GREAT RAID, you'll recall the 6th Army Rangers who rescued POWs at Cabanatuan on 29 January 1945. Sam Ring was one of those Rangers... and in an irony hard to imagine, Sam saved his own FATHER in that Raid. No, it didn't make the movie. Real Life is often many times grander... and stranger than the movies! I am incredibly honoured to call Sam a Friend. Enjoy and Godspeed! S
"Hey Stephen, Last weekend we had our Sudwind-Project Concert. We performed your "Last World Standing". It's really a serious and great piece. I'm extremely impressed about it. Congratulations!!! Last autumn we performed your "Speech of Angels" with my youth orchestra and in 4 weeks we will play your "Godspeed!" We are really looking forward for this performance! With my "Adult Orchestra" we are planning your David.... You can see, we really love your music, your message!" Tobias Zinser, Germany
"I have just listened to the new Stephen Melillo, Stormworks Chapter 13: Whispers on the Wind CD. It is without doubt one of the most exciting band works I have ever heard. Stephen Melillo, with his super talent, is in a class by himself and years ahead in this creative world of music. His is definitely on the cutting edge in the future of music." Dr. John M. Long, Distinguished Professor of Music, Dean Emeritus, Troy University
"I was fortunate enough to be there for the premiere. It was simply stunning. A great work that defies stylistic categorization; a totally "new" concept in performance. It is as revolutionary to the band world as Wagner's music drama concept was to opera!" Aldo Forte, Composer
"The whole thing was beyond description. Just healing and love and grief and regret and joy and gratitude - I could even say your music reflects our human condition with all its imperfections while also encouraging it to the most noble expression of itself. Your music makes one want to stretch in the direction of perfection even as we admit our deepest flaws." Hope Fitzgerald, Audience
"Dear Steve, I hope, You remember Your trip to Austria feeling good. Now I have some days off and time for thinking about what has happened. It was like a miracle: with You there are so many impulses for our efforts playing music...or better living music! Thank You very much for these professional tips! But there is even much more than growing competence.  There is a deeper connection to music from heart.. and now there is more wisdom for becoming a good man. I have got some deeply impressing feedback to our concert in Brucknerhaus: for example,
a) Now I am going to concerts for 30 years but this concert is on the top of all concerts I have ever heard.
b) Thank You for this concert. Tears are in my eyes and I hope, that everyone hearing this concert is changed now. Thank You for showing us our responsibility for peace and I hope, that the people will think about it.
c) Your concert touched me in my sou.  It was much more than a concert!" Karl Geroldinger, Conductor Sinfonischen Blasorchester Ried.
"Steve: I want to thank you for making my last concert as a concert band conductor one of the most memorable experiences of my life. It obviously couldn't have happened without you. No other composer's music would have sufficed for me to take all that I was feeling and the kids were feeling, and make it not a performance but a monument. Please know this. I will say it again: No other composer's music would have sufficed. Not just would have been appropriate, or useful, or any other word...the art, the life, you pour into your work was vitally necessary for this to have taken place. You provided us with the vehicle to go where we needed and wanted to go. For that, I will be eternally grateful to you." Jeff Waggoner, one of the commissioners of Last World Standing
"I just finished my first listening to the Chapter 13 CD and have to say Bravo! It is exciting to hear such a variety of expressive sounds from the wind ensemble. You don't hear this music from the BOX Publishers! Your continued integration of technology and multi-media is tremendous and once again places STORMWORKS ahead of the publishers on truly new expressions of an advancing art form! The expressive nature of your music is TIMELESS and needed now more than ever! As research shows, today's students are becoming more disengaged from our art form and your music offers a real connection to our students. Finally, the quality of the recording is great! I love the Decca Tree recording style. It truly captures the LIVE sound. Again Bravo on a job well done! Keep leading the way!" David Knott, Instrumental Music Education, Catherine Hall - Milton Hershey School
"When listening to the musical works of Stephen Melillo on the Chapter 13 CD, one can't help but feel like they are reading the diary of the composer and performers. With each new piece there is more revealed that lets the listener share in the thoughts, hopes, fears, and dreams of the musicians involved. After reading the digital libretto, this feeling was magnified tremendously. There are many moments on the CD where the emotion and excitement of the performance is truly palpable. Great music has a way of transforming the musician that performs it. I would guess that countless musicians were, and will continue to be, transformed through Stephen's music." Scott Hensil CB South and CB West H.S. Director Of Orchestras, PA.
"This music navigates its way into a person's soul in a most succinct and profound manner. One becomes drenched in the vivid emotional imagery that radiates from this recording. It tugs at your heartstrings and it challenges your conscience. You'll begin a new musical journey in a new dimension, a new time. You will never be the same." -Thomas Reynolds, Music Director, Harvard, MA Public Schools, Conductor MIT Concert Band, Cambridge, MA